Manny Pacquiao vs. Floyd Mayweather Belts Comparison: Who Won More Titles?
Published 08/17/2021, 5:07 PM EDT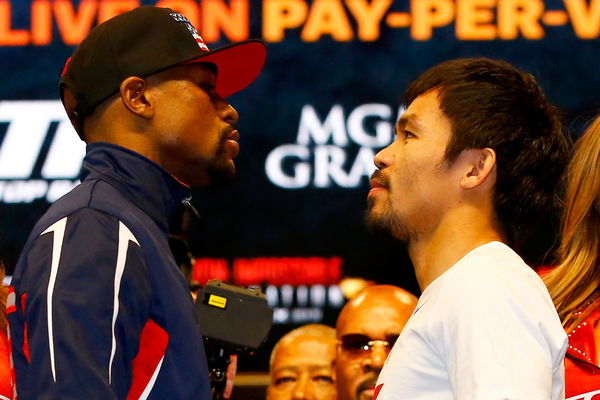 ---
---
For years before 2015, boxing purists and fans pushed for one single fight- Floyd Mayweather Jr vs Manny Pacquiao. However, the mega welterweight matchup never seemed to work out. It was assumed that the biggest boxing fight of all time would never come to fruition because of the corruption in the sport.
ADVERTISEMENT
Article continues below this ad
Watch this Story: Top 5 Biggest Rivalries In The History Of Heavyweight Boxing
ADVERTISEMENT
Article continues below this ad
With no active negotiations between Mayweather-Pacquiao, media powerhouses started speculating the Filipino Senator's retirement. Reports highlighted that if the eight-division champ had nothing else left to prove in the sport.
However, the sport changed forever in 2015. Negotiations for the world's biggest sporting event had finally panned out. Floyd Mayweather Jr vs Manny Pacquiao was booked for May 2015. This much-awaited matchup needed no hard-selling as the hype for this fight was always intact and ready to blow over.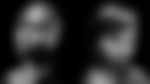 On 2nd May 2015, Pacquiao and 'Money' finally met in the ring. After 12 rounds of nonstop action, Floyd Mayweather secured a win by unanimous decision (116-112, 116-112, 118-110). 'Pretty Boy' improved his professional boxing record to 48-0, and also add the WBO belt to his collection.
While 'Money' has now hung up his gloves, 'The People's Champ' is still professionally active. Both have racked multiple titles throughout their careers. Here's a deeper look into who won more titles-
Manny Pacquiao – Title wins across eight divisions
In December 1998, Pacquiao challenged Chatchai Sasakul at 112 lbs for the WBC Flyweight belt. A young Pacquiao was simply too quick and his shots were too powerful for his opponent. He knocked out Sasakul in round 8 and raised his first-ever world-level title.
The Filipino boxer moved up in weight to 122 lbs for his next title challenge. He faced Lehlo Ledwaba in June 2001 for the IBF Super Bantamweight belt. In his second title shot, he completed the job even faster than he did at Flyweight. In round 6, he stopped Ledwaba and secured his second world title.
Pacquiao fought Marco Antonio Barrera in 2003 for the Ring Magazine's Featherweight belt. He ended the top division contender in round 11.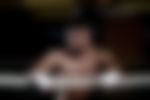 In March 2008, he targeted the WBC Super Featherweight throne next and fought Juan Manual Marquez. This was the first title challenge that was considered controversial and came very close. However, Manny Pacquiao won against Marquez by way of a split decision.
The boxing icon secured another title in the same year at the lightweight division. A 135 lbs Pacquiao fought American boxer, David Diaz and stopped him in round 9. With this win, he won the WBC lightweight champion status.
Pacquiao fought for two different title shots in 2009. He secured an easy 2nd round knockout win over Ricky Hatton for the IBF light-welterweight belt in May 2009. He would then go on to win the WBO welterweight title with a win over Miguel Cotto in November of that year.
At last, he bested Antonio Margarito at the super welterweight class. This was a tough fight as well; however, Pacquiao closed the show with a unanimous decision win and won the WBC title. With this win, he became boxing's only eight-division champion.
Floyd Mayweather dominated five different divisions
Over the years, Floyd 'Money' Mayweather racked up 50 straight wins and never lost a single fight. Throughout his career, he fought sixteen competent world champions and outboxed all of them. 'Pretty Boy' has faced heavy criticism for fighting Conor McGregor and even YouTuber Logan Paul. However, his achievements in the sport allow him to cherry-pick his opponents.
In 1998, Floyd Mayweather challenged Genaro Hernandez for the WBC Super Featherweight. 'Pretty Boy' dominated his opponent throughout and closed the fight in round 8.
'Money' fought Jose Louis Castillo in 2002 to win the WBC lightweight belt. After the first bout, the duo faced each other in a rematch that same year, ending the rivalry at 29-0.
Mayweather then went for non-title bouts before defeating Arturo Gatti via RTD for the WBC super lightweight strap in 2005.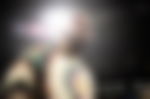 From 2006 to 2011, Floyd Mayweather won the IBF, IBO, and WBC welterweight titles. He overpowered and outclassed boxing elites like Ricky Hatton, Zab Judah, Victor Ortiz, Juan Manuel Marquez, and Shane Mosley. In that period, he also defeated Oscar De La Hoya and won the WBC super welterweight belt in 2007.
After defeating De La Hoya in 2007, Floyd Mayweather went back to 154 lbs against Miguel Cotto in 2012 and won the WBA (super) and WBC (diamond) belts. Subsequently, he returned to the 147 lbs and beat Robert Guerrero to win back his WBC title. He again switched back to 154 lbs and claimed the WBC and WBA (super) belts by winning against Canelo Alvarez.
ADVERTISEMENT
Article continues below this ad
ADVERTISEMENT
Article continues below this ad