Mike Tyson Believes He Was Set Up to Lose Against Buster Douglas but Admits He Was Overconfident
Published 08/08/2021, 4:58 PM EDT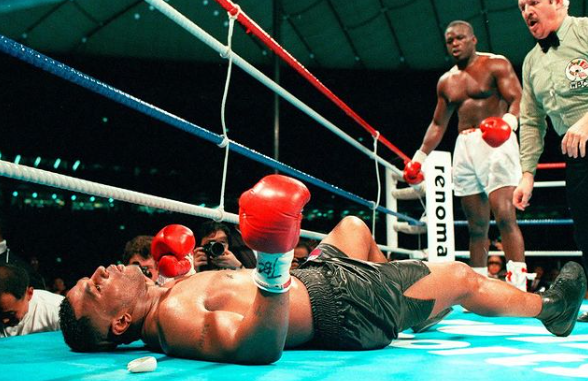 Mike Tyson and Henry Cejudo's Hotboxin' podcast is a favorite amongst fans of combat sports. The boxing and MMA championship duo surprised fans with a mega episode featuring  Khabib Nurmagomedov. Within just three days of its release on YouTube, it has now racked up over 2 million views and is now also the most viewed Hotboxin' episode.
On the podcast, they discussed Khabib's rise to MMA stardom, his father's influence over his career, his bitter rivalry with 'The Notorious' Conor McGregor, and more. 'The Eagle' also asked the 55-year-old boxing icon about his first-ever career upset against James 'Buster' Douglas.
ADVERTISEMENT
Article continues below this ad
Khabib Nurmagomedov asked Tyson if he had underestimated Douglas going into the fight. He acknowledged he had indeed underestimated him and was overconfident, given the odds stacked against his opponent. The youngest heavyweight champion added the referee gave him a long time to recover after his knockout at the end of round 8.
Henry Cejudo pointed out that Douglas had lost his mother just a few weeks before the fight. He added that as an underdog, that gave James 'Buster' Douglas the "energy" to cause the greatest upset of all time. Khabib said that he could relate to 'Buster', as even he was in a similar position in life before the Justin Gaethje fight.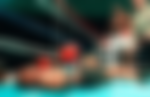 However, Mike Tyson disagreed with Cejudo and Nurmagomedov. He did not believe that was the case and also felt that the odds in that fight suggested that the matchmakers set him up to lose right from the get-go.
"No, I don't believe that. They set me up to lose. They were betting against me. Look at how big those odds were," said Tyson.
'Buster' Douglas dominated the fight right from the start
'Iron' Mike Tyson faced James Douglas nearly 30 years back. To date, it is still considered one of the biggest upsets in the history of sports. The biggest bet on Douglas was $1,000 at 37/1, and the biggest payout at the time was $37,000. Going into the fight, 'Buster' was a massive underdog. Fans of Mike Tyson did not see Douglas as a threat to the undefeated champion's legacy.
On fight night, Douglas stepped out in white shorts with red stripes and Tyson walked out in black shorts. The 23-year-old seemed confident while making his walk to the ring at the Tokyo Dome. 'Buster' opened strong and kept landing jabs at his opponent. This was unusual for fans, as Tyson usually kept a grip on his opponents right from the start. The first round was a clear win for the underdog.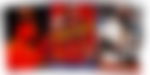 However, things did not really change for another four rounds, and it seemed like Douglas had the key to this fight. Being the taller fighter with a much longer reach, 'Buster' had things in control. He gauged and maintained distance and adopted a 'stick and move' approach.
This distance created problems for the 23-year-old champion, as he could not land any effective shots. The 30,000 fans in attendance at the Tokyo Dome watched the fight progress in Douglas' favor in utter disbelief.
Mike Tyson came close to bagging a win
Few seconds left in the eighth round, Tyson gave a glimpse of his usual self by pivoting to the right and landing a vicious uppercut that immediately dropped his opponent. At the ninth second of the referee's countdown, a frustrated Douglas got back up after pounding his left glove on the canvas. After regaining his confidence, Mike Tyson landed a barrage of sharp jabs and hooks to the body right from the start of round 9.
With a minute left in round 9, both fighters were drained. James Douglas made a comeback by launching exceptional combinations of non-stop shots to the body. He landed a barrage of left and right hooks that forced Tyson to the ropes. 'Buster' caused significant damage by hurting his eye.
"Mike Tyson is hurt, his eye is closing, and he is behind in this fight," the commentator said at the end of round 9.
ADVERTISEMENT
Article continues below this ad
The 23-year-old opened round 10 by landing a straight left on Douglas' chin. But he ate the shot and then responded by flicking two slight jabs. What came next changed boxing forever; 'Buster' Douglas unloaded a vicious right uppercut.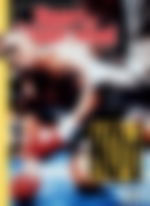 As he was falling backward, Douglas pulled a four-punch combination, and then 'Iron' Mike dropped flat on his back. However, Tyson did not want to back down; he tried to get back at the count of nine and leaned back down on the referee. The fight was then immediately called off. At 1 minute and 22 seconds of round 10, James "Buster" Douglas became the new heavyweight champion of the world.
ADVERTISEMENT
Article continues below this ad