Mike Tyson Details Violent Tiger vs. Alligator Fight That Happened in New York Apartment
Published 10/25/2021, 12:23 PM EDT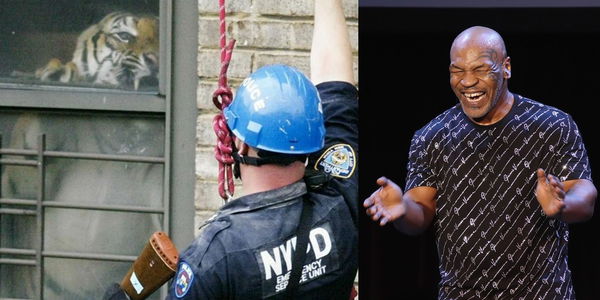 ---
---
Mike Tyson knows a thing or two about what it's like to have exotic pets in a house. As seen in 'The Hangover' movie, he had pet tigers of his own for a long time. There used to be a time when his tigers used to freely roam about his estate.
ADVERTISEMENT
Article continues below this ad
Having been through the experience of domesticating multiple tigers, Tyson could somewhat relate to a 2003 incident involving two exotic pets- a tiger and an alligator.
In 2003, authorities discovered 'Ming', a 425 lbs tiger along with a five-foot-long alligator named 'Al' kept in a fiberglass tank in a small apartment in Harlem, New York. The owner of these two pets was later arrested for illegally keeping these animals at his NYC home.
ADVERTISEMENT
Article continues below this ad
Mike Tyson recently recalled this 18-year-old incident. Even though he has had his fair share of crazy experiences in his own life, this was a bit much even for him.
"This n**** had a 500 lbs tiger and a goddamn alligator in his bathroom. So, the alligator and tiger got in a fight. In the tub, in his one bedroom, two bedroom apartment in the Bronx.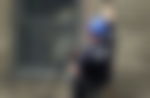 "He had them since they were a baby, I don't know how he snuck him in there, the alligator was in the goddamn tub and the cat's there and they started fighting and this motherf****r, what's in his mind? A tiger and an alligator, and he goes 'hey, stop, stop'!
"They fu***d him up man! He's in New York and you got a 500 lbs tiger here and alligator there? How did you do this? That's a one bedroom apartment!" said Mike Tyson.
Will Mike Tyson ever get another pet tiger?
On his podcast, Mike Tyson recently spoke about why he kept a tiger as a pet and he also revealed if he'll ever consider getting another pet tiger.
One can spend hours trying to understand why Tyson ever bought a tiger in the first place. However, there is no good justification for that.
When he went on Joe Rogan's podcast, 'Iron' Mike revealed that his decision to get a pet tiger came to him in 1992, when he was serving time in prison.
ADVERTISEMENT
Article continues below this ad
Behind bars, Tyson was on the phone with a car dealer to purchase a new vehicle. What started as a decision to buy new wheels ended up with him purchasing an actual $71,000 tiger for his house.
He shared that he had to let go of his pet tiger 'Kenya' after 14 years and he believes his beloved pet tiger could be dead now.
ADVERTISEMENT
Article continues below this ad
While the 55-year-old still misses and reminisces his time with 'Kenya', he is a wiser man now. When asked if he will ever consider buying another pet tiger, Mike Tyson said he can't let a wild tiger roam his residence anymore as he has kids at home.
Enjoyed reading this article? Download our exclusive app to get 24x7 coverage, latest memes and social media banter. Click here to download.