Mike Tyson Finished Trevor Berbick 35 Years Ago: How Much Money Did He Make?
Published 11/22/2021, 1:03 PM EST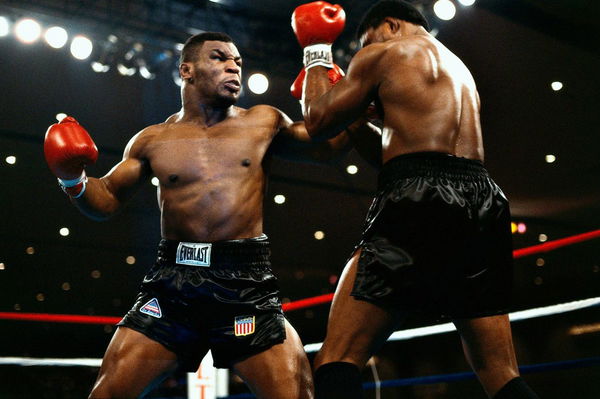 ---
---
Mike Tyson retired from the sport sixteen years ago. So, why do we still keep talking about him?
ADVERTISEMENT
Article continues below this ad
The boxing world has come a long way since the days of Mike Tyson's reign as a heavyweight world champion. Even though we now have big, if not bigger, stars like Tyson Fury, Anthony Joshua, and Oleksandr Usyk, for some reason, we still can't stop talking about the youngest champion the division's ever seen.
There is no concrete explanation but it's just that Mike Tyson brought in something with him in and around the ring that most fighters still can't figure out. His ferociousness, killer attitude, and champion mentality allowed him to scale unimaginable heights – the heavyweight throne, more money than literally anyone else in the sport at the time, and a large and loyal fanbase.
ADVERTISEMENT
Article continues below this ad
We still keep seeing clips of him working the pads like a contender training for a title fight; however, the 55-year-old simply cannot revive the form that he was in during the late 80s. Watching highlights of his 2020 exhibition bout against Roy Jones Jr. in isolation could be misleading for most young and contemporary boxing fans.
Taking a look back at one specific 1986 fight could be a solid way to get a sense of Mike Tyson's prime years; this could also help you truly understand why we still choose to talk about him even a decade and a half after his retirement.
The fight that introduced the world to the real Mike Tyson
November 22, 1986 – Bright lights, cheers, chatter, and loud music; the Hilton Hotel in Las Vegas had come alive as it hosted a mega championship bout between Trevor Berbick and Mike Tyson.
Even though he wasn't a champion yet, the fans knew who 'Iron' Mike was. With 27 professional wins and no losses, he laced up his gloves for quite possibly the biggest night of his life. The undefeated heavyweight prospect was about to step into the ring with the then WBC champion, Trevor Berbick, who had won his belt nine months prior against Pinklon Thomas.
It is highly unusual for conventional fighters to fire away right from the first second. But that's exactly the approach that Tyson used against a much taller Trevor Berbick. Thirty seconds into the fight, he dug into Berbick's face with a heavy left jab. He would then go on to use his 'peek-a-boo' style to sneak into the pocket, attack from inside and leave no room for the opponent to retreat or create distance.
Right in the very first round, Trevor Berbick felt 'Iron' Mike's heavy power. It was clear that the power and the intensity were a bit much for Berbick as he resorted to excess clinching and wrestling to disable Tyson's ferocious striking. However, that did not work as planned as towards the end of the first round, Tyson even stunned him with a big right hand that sent him dancing back into another corner.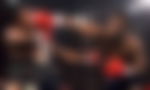 Without a doubt, Tyson had bagged round 1; but he was not looking to play around till the later rounds. In the second, the challenger's power and the volume of punches shot up drastically. Not too deep into round 2, the 20-year-old dropped Berbick with a heavy cross punch. Then minutes later, he once again fell flat on his back as Mike landed a clean left hook to his face.
However, Berbick was resilient and was not going to go down without a fight; he tried to revive himself and get back up after that second knockdown but failed miserably. He fell twice in his attempt to stand back up and as per contemporary diction, Mike Tyson made Trevor Berbick do the 'chicken dance'.
Just like that, 'Iron' Mike became the youngest heavyweight champion of the world by defeating Trevor Berbick via round 2 TKO.
'Iron' Mike won a lot more than just a world title against Trevor Berbick
Under the umbrella of American promoter Don King, he became the biggest name in boxing through the late 80s and most of the 90s. Within that timeframe, Mike Tyson's net worth soared to $300-$400 million.
Most of his earnings stemmed inside the ring; however, the youngest heavyweight champion also bagged several promotion deals and brand endorsement offers outside the realm of boxing.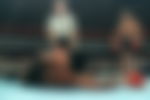 ADVERTISEMENT
Article continues below this ad
Even though just nearly 15 years after the Trevor Berbick fight, he would go on to declare bankruptcy, this 2-round bout in 1986 generated one of the first biggest paydays of Mike Tyson's pro-boxing career.
The youngest heavyweight champion earned $1.5 million against Berbick; on the other hand, his opponent, who got dropped in round 2,  reportedly walked away with $700,000.
ADVERTISEMENT
Article continues below this ad
Enjoyed reading this article? Download our exclusive app to get 24x7 coverage, latest memes and social media banter. Click here to download.