Mike Tyson Gets Brutally Honest About Sports Fans
Published 05/20/2022, 2:01 AM EDT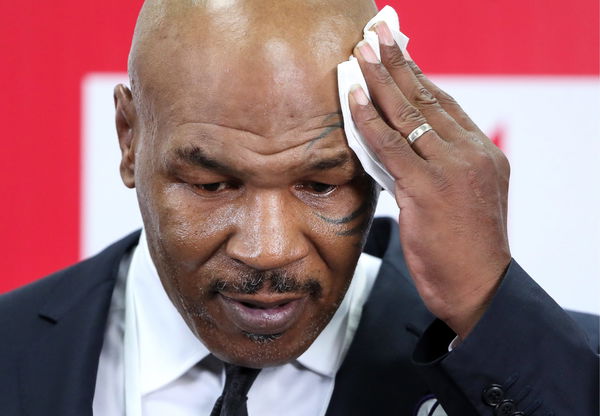 Mike Tyson has a penchant for seeing things from a different perspective. Being at the top for such a long period does come with some consequences both inside and outside the ring. The 55-year-old has spilled some beans about how an athlete has to face challenges outside the ring.
Hip Hop artist and rapper Russ, who was invited to Tyson's podcast, Hotboxin' with Mike Tyson, discussed how fans react to athletes. He started, "Sports to me is like, it's funny… it's so baseless to even hate on athletes. Your opinion doesn't even matter."
ADVERTISEMENT
Article continues below this ad
Iron Mike suddenly dropped a harsh truth, saying, "It makes you hate somebody so bad you pay to see him lose…" Tyson further added, "That's how the athlete gets on." 
The episode explored how a person plots his course to realize his goals. Tyson and Russ each recounted bits and pieces of their past and ascent.
The sad reality about Tyson's life
Widely recognized as 'The Baddest Man on the Planet', Tyson had his own share of struggles. Although boxers feared facing him inside the ring, 'Iron' Mike was a scared young kid himself. Having a hard childhood affected him in several ways.
 

View this post on Instagram

 
Tyson fans know how passionate he is about pigeons. But, very few know that he threw his first punch because his pet pigeon was viciously slaughtered by a bully with his bare hands.
ADVERTISEMENT
Article continues below this ad
After having a bad childhood, 'Iron' finally found his way through boxing. His first coach, Cus D'Amato, believed in him and taught a lot of valuable lessons. 
When Tyson was 14, he shifted from his tough New York suburb to D'Amato's sprawling campus. Some years after Tyson retired, his daughter Exodus (4) passed away in a horrific treadmill accident in May 2009.
ADVERTISEMENT
Article continues below this ad
'Iron' Mike has been through a lot in his life, but he has always come out on top as a true champion.
Now, the Hall of Famer is hosting his own podcast, and fans adore how he shares his life lessons and experiences with the rest of the globe. What do you think of Tyson's remark? Write it down in the comments section below.
Edited By: Reubyn Coutinho