'Now it's Time for My Story': Lennox Lewis is Back
Published 12/16/2020, 10:30 AM EST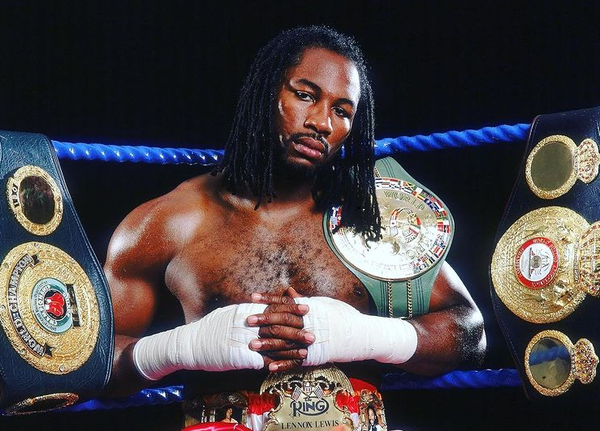 ---
---
Former heavyweight champion Lennox Lewis might not have received the credits he deserved. He has achieved the top-spot in boxing and is a well-known figure in the world of combat sports.
ADVERTISEMENT
Article continues below this ad
However, if we look at the global spectrum beyond the squared circle, Lennox Lewis is still not a household name as compared to Mike Tyson or Muhammad Ali.
'The Lion' is one of the greatest heavyweights ever to have laced up the boxing gloves, boasting off a professional record of 45 wins with just 2 losses in a career that ran from 1989 to 2003.
ADVERTISEMENT
Article continues below this ad
While he has achieved it all in the sport, it's time for the world to know his actual story. Directors- Rick Lazes and Seth Kotch filmed the Brit legend, and a documentary on him is already out.
'Lennox Lewis- The Untold Story' talks about all the lesser-known facts about the former champion and how he struggled to reach where he is today.
Lewis claims people have heard the stories about Ali and Tyson, but it's time for them to know about him. 'The Lion' connected with Morning Kombat to shed some light on the documentary, stating some parts of it to the audience.
Speaking about it, Lewis said, "Hey listen, I just want people to see my story. Everybody has seen Mike Tyson's story, everybody has seen Muhammad Ali's story.
"Now it's time for my story so it gives a brief overlook, overview of my life from the humble beginnings to now. Actually, gives a comparison you know, you see Mike Tyson in the documentary as well."
Lennox Lewis and Mike Tyson- A special phase
Lewis knocked Tyson out in 2002 in his last days of boxing. It was a bad-blood rivalry and the entire build-up was vile.
However, Tyson and Lewis were touted as rivals for a long time. The two were contrasted with each other, and most people recognized Tyson as the superior pugilist until Lewis knocked him out in the dusk of their careers. So, it also brings 'Iron' Mike into Lewis' documentary.
The Brit also enjoys having that part. He calls it a significant addition, touting his story to the fans.
Lewis said, "Great additive you know, you could see his life and claim to fame and mine because we were actually running the same path in 1983, world junior championships."
ADVERTISEMENT
Article continues below this ad
He added, "I was there, and I wanted and the American team said. 'Hey you are not the best, there's a guy up in the Catskill. He doesn't like taking plans.
"His managers doesn't like taking plans.' But he is the best. So, me and my manager went up to them and said, we gotta see who this guy is. And it was Mike Tyson."
ADVERTISEMENT
Article continues below this ad
Lewis retired a year later in 2003 after knocking out Wladimir Klitschko. But continued to be an invaluable part of boxing with his role as a trainer and an analyst. Now, when his story is already out, hardcore fans can get a real glimpse of his life beyond the boxing glory.