Mike Tyson Once Escaped Getting Shot In Cold Blood Because Serial Killer "Liked" Him
Published 06/29/2022, 7:03 AM EDT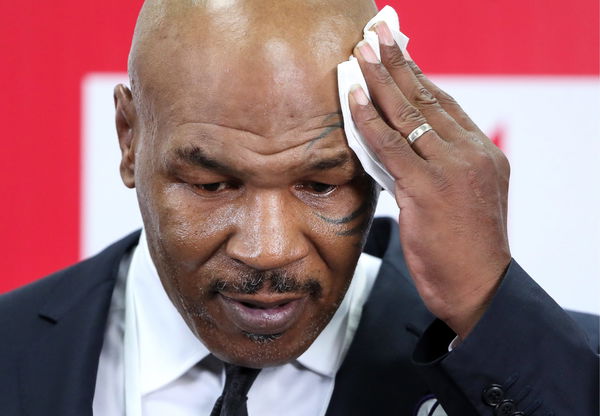 Mike Tyson, widely known as "The Baddest Man on the Planet," was one of the most feared men in the world when he was at his peak. The boxer had amassed a sizable fan base and had become a global icon. But there are certain repercussions of becoming famous. For example, you can never predict how a fan will turn out to be. One such fan gave Tyson the fright of his life.
ADVERTISEMENT
Article continues below this ad
While talking on the 'Jimmy kümmel Live', Tyson described an interview he did back in the day. He met a sports writer who came to meet him at the gym. After this meet with the reporter, surprisingly, a day or two or three days later, the gym was surrounded by cops.  
ADVERTISEMENT
Article continues below this ad
Tyson stated, "And the cop, the sergeant, wanted to talk to me. So I came outside, and I was talking to the guy, and he showed me the picture of me and the guy because it was on his website. And he said, "Do you know this gentleman?" 
He further added, "And I said, 'Well sir, I don't know, I was rooting a fight, if I must have said something to him, if I offended him, I'm sorry. I didn't mean to do that." And he said, "No, he liked you, Mr. Tyson. He didn't like the 28 people that he shot and the 8 that he killed. He was the baseline shooter, from Phoenix, Arizona. Dale Hausner, he killed himself in prison." 
Iron Mike, who was unaware he was being interrogated by a psychopath, narrowly avoiding deadly encounter. However, the interviewer liked Tyson, as did the rest of the world.
Mike Tyson delves into the mysteries of death
The world's most destructible combatant has now changed into someone who understands life's beauty and how we may live it peacefully. Tyson transformed from a furious wrecking ball to a calm individual. His transformation is evident in his podcast show Hotboxin with Mike Tyson.
ADVERTISEMENT
Article continues below this ad
In one of the episodes of the podcast, the Kid Dynamite stated, "Maybe death is another form of life that we go to. Another part of life, you know. How could life be glorious and death not be glorious?" 
WATCH THIS STORY: 5 Best Guests on Hotboxin With Mike Tyson
ADVERTISEMENT
Article continues below this ad
Tyson has experienced a great deal in his life. His character has been shaped by several events, including a tough childhood, bullying, the death of his daughter, and many others. And only he can comprehend and articulate life and death in this way.
What do you think about Tyson's encounter with the psychopath? Share it in the comments section below.  
Edited By: Ajinkya Aswale