Mike Tyson Predicts Catastrophic Outcome for Austin McBroom Against Jake Paul in a Potential Boxing Match
Published 08/14/2021, 2:35 PM EDT
---
---
Growing up as an actor on a Disney show and a wildly successful YouTube star allowed Jake Paul to build himself a massive following and a fanbase. His ability to engage with his ever-growing audience and get people to talk about him makes him a key asset in the boxing world.
ADVERTISEMENT
Article continues below this ad
While he is looking to solidify his worth in the sport by fighting legitimate pro-boxers, Jake Paul might still have unfinished business in the YouTube boxing community. Recently, the YouTube vs TikTok boxing event revealed one particular opponent who wants to take on the 24-year-old – Austin McBroom.
ADVERTISEMENT
Article continues below this ad
Austin McBroom's performance against another internet influencer, Bryce Hall, did not go unnoticed. Compared to other matchups in that event, McBroom definitely outclassed the other internet celebrity boxers.
On a recent Hotboxin' podcast episode, David Benavidez asked boxing icon Mike Tyson about his thoughts on a possible matchup between Austin McBroom and Jake Paul. 'The Baddest Man on the Planet' picked the Ohio native as a favorite in that fight. He predicted an easy first-round knockout win for Paul against McBroom.
"This guy, Jake, will knock him out in one round," said Mike Tyson.
The bad blood between Jake Paul and Austin McBroom
Despite making a dent in the sport in a brief span of time, Jake Paul has still not faced a fighter who is at par with his level of skills and experience. While Paul wants to put an end to this argument by facing a pro-boxer, he might not be done with the YouTube boxing space just yet. Among many others, Jake Paul shares a bitter rivalry with a fellow YouTuber and his former friend, Austin McBroom.
McBroom and Paul share quite a history. In November 2020, Austin McBroom called out the Ohio native on Instagram by saying that he has been "running" from him for years. Jake Paul clapped back at him in typical fashion by saying, "I would be more worried about your wife in my DMs,".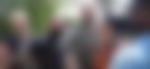 However, as McBroom secured a fight with Bryce Hall, he shared a video with Jake Paul's next opponent, Tyron Woodley, in which he said "Jakey, you're in trouble, my man!". The 24-year-old snapped back at him by calling him out for "cheating" on his wife.
"Oh, Austin!" Jake laughed in his response video. "He switched up on me. He's with my opponent! I'm in trouble, Austin? Does your wife know that you cheat on her every weekend? Does she know that you message every single girl on Instagram trying to get in their pants?" said Jake Paul.
Austin McBroom recently confronted him for his comments about his family after Paul wrapped up a podcast with Josh Richards and Dave Portnoy. The two got into a heated argument and were on the verge of throwing hands at each other. Allegedly, Paul even slashed four tires, two on McBroom's Lamborghini after their face-off.
Is YouTube boxing bad for the sport?
Today, the UFC largely dominates combat sports. The MMA promotion is on top of developing opportunities for its fighters and generating the highest PPV sales. However, things are not the same in the boxing world. Floyd Mayweather – Conor McGregor and Floyd Mayweather – Manny Pacquiao are two of the best-selling fights of all time. However, such matchups are scarce in the sport now.
As a result, boxing viewership has taken a major hit. Compared to the traction and hype built around MMA matchups, boxing is clearly lagging far behind. But there might be a silver lining to this- the Paul brothers and equally competitive celebrity boxers.
'Iron' Mike Tyson is a vocal supporter of this new wave in the sport. Prior to his own Triller fight against Roy Jones Jr in 2020, he shared in a press conference that the boxing community must respect these YouTuber-turned-pugilists for recuperating a dying sport.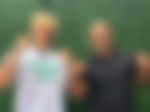 Tyson highlighted the UFC had disrupted the sport of boxing, but these internet influencers stepping into the ring have helped in regaining the traction. He believes that this movement is the need of the hour.
ADVERTISEMENT
Article continues below this ad
A fight between Jake Paul and Austin McBroom could do wonders for the sport. These mega YouTube stars could help today's youth develop an interest and fascination for the sweet science of boxing.
Would you like to watch Jake Paul and Austin McBroom settle their beef in the ring?
ADVERTISEMENT
Article continues below this ad