Mike Tyson Says 'F*** Football' Over Painful Reasons
Published 05/19/2022, 8:00 AM EDT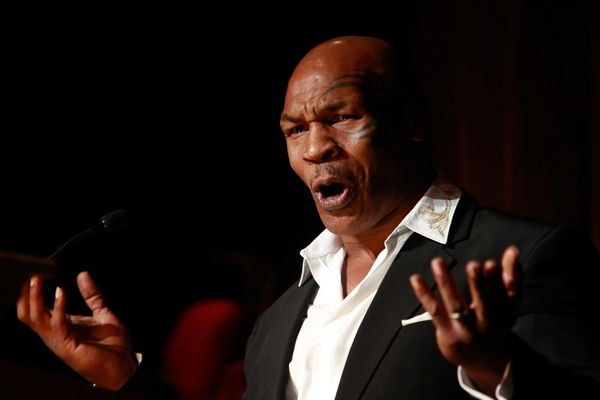 Mike Tyson had an impressive physique, which he used to his advantage when he stepped inside the ring. However, he was not born with it. The former two-time heavyweight champ put himself under ruthless training to attain an ideal shape of a fighter. This is the reason he became the youngest heavyweight champion ever.
ADVERTISEMENT
Article continues below this ad
Though Tyson had such an incredible physique, he sustained several injuries throughout his career. That's why he has such a deep understanding of injuries suffered by athletes. As per Tyson, football injuries are the worst, and this is why in his latest podcast episode Tyson said, 'F*ck Football'.
ADVERTISEMENT
Article continues below this ad
Sitting along with Atlanta-based Hip-Hop artist & Rapper, Russ and co-host Sebastian Joseph Day in the Hotboxin studio, 'The Baddest man on Planet' said, "Boxing, that's not necessarily as much contact as football. You got one guy. You're fighting them and he might beat the s*** out for a while, but then that's different. You one guy and you got a guy fighting, then you have another guy in there squashing breaking in half get you right in f**king half and then your spine is broken."
Furthermore, He added repercussions of the injuries. He said, "You can't talk to your kids. You can't f**k your wife no more, so f**k football."
The bizarre description of injuries by Tyson made the others laugh in the studio.
Mike Tyson with a broken back
During his career, 'Iron' Mike suffered various injuries. However, Tyson always pushed through, he once revealed in a post-fight interview how he fought a bout with a broken back.
ADVERTISEMENT
Article continues below this ad
According to Tyson, he sustained a spinal injury before meeting Clifford Etienne in the ring in 2003. Despite the injury, he managed to clinch the victory by knockout.
Tyson said, "I broke my back. My back is broken, spinal. I did it by a motorcycle accident. The doctor discovered. I was doing my situps 2500, a day of my 20-pound weight, and one day I couldn't move anymore and I have asked the doctor what's wrong. He said believe or not your back is broken slightly."
Tyson had experienced the broken back case himself this is why he went on to describe the outcomes of injury suffered by football players in their back.
ADVERTISEMENT
Article continues below this ad
WATCH THIS STORY – Michael Jordan vs Mike Tyson Net Worth Comparison
What do you think of Tyson's remark on injuries suffered by football players? Let us know in the comments below.