Mike Tyson, Tommy Fury, and Boxing Personalities Predict Jake Paul vs. Tyron Woodley
Published 08/27/2021, 5:59 PM EDT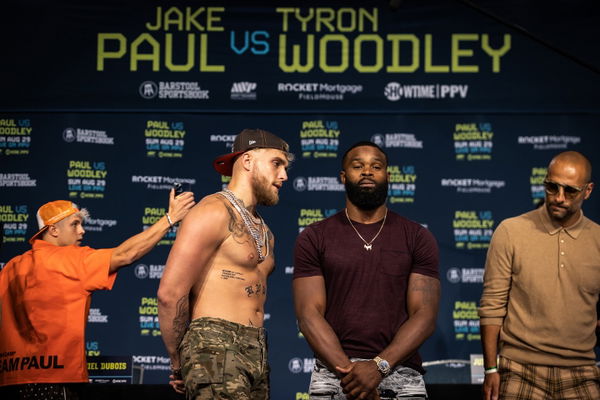 ---
---
In just a couple of days, Jake Paul will finally meet his toughest challenger yet, Tyron Woodley, in the ring. At the latest joint press conference along with the undercard fighters, tensions between both corners escalated to a whole new level. If things were not personal before between Paul and Woodley, they sure are now.
ADVERTISEMENT
Article continues below this ad
Predicting the outcome of such an odd matchup is next to impossible. CBS Sports combat sports analyst Luke Thomas very rightly mentioned in a fight preview that anybody who claims to know how this fight is going to end is lying.
ADVERTISEMENT
Article continues below this ad
Throughout his MMA career, Tyron Woodley has been a knockout artist in the purest sense. Unlike Paul's previous opponents, T-Wood is a legitimate striker who has good movement and knows how to connect effectively, while also avoiding significant damage through the rounds.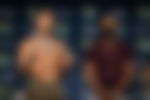 On the other hand, 'The Problem Child' is now looking to expand his professional record and has been putting the work in. While he has ended his previous opponents by knockout, it still does not say much about his actual skills other than the fact that he packs a punch and can fight on his back foot.
Boxing personalities predict Jake Paul vs Tyron Woodley
Fans are now eager to uncover the outcome of this eight-round battle. Here's a closer look at some predictions made by professional boxers and other big names in the sport.
Mike Tyson – Paul wins by knockout
Mike Tyson has been a vocal supporter of 'The Paul Movement' in the boxing world for quite some time now. The boxing icon believes opponents put themselves at a disadvantage right from the get-go by thinking of the 24-year-old as a "blonde-haired blue-eyed white b***h".
He added that Jake Paul is a good striker, knows what he is doing in the ring, and predicted yet another knockout win for the YouTube star.
Tommy Fury – Tough challenge for Paul
Tommy Fury, possibly Jake Paul's next opponent said that this is a hard fight to predict. He pointed out that Tyron Woodley has been doing this for a long time and knows how to handle himself when he's hurt. He added in favor of his opponent by saying that Paul has been training and learning the art of boxing on a daily basis and that he might know a thing or two more than his opponent on August 29.
Tommy Fury believes that the primary objective of this fight should be to understand how Jake Paul responds when he's hurt in the ring or when he's locked in a corner. He believes there is a very good chance of Woodley dragging him into those waters in the fight.
Teddy Atlas – Jake Paul wins by knockout
Coach Teddy Atlas shared a to-the-point prediction and backed it with technical reasoning. He believes Jake Paul is destined to win this bout by knockout. Atlas justified his claim by pointing out clear loopholes in Tyron Woodley's game plan.
He pointed out that Woodley lacks head movement and tends to stand straight while landing and countering shots. Atlas also highlighted his tendency to land jabs at half-length and not extending his arms completely.
He explained that by extending arms, the fighter can maintain distance in between the pocket.
He believes that the lack of movement and the half-length jabs will create knockout openings for Jake Paul.
Paulie Malignaggi – Leaning towards Woodley
Paulie Malignaggi believes Jake Paul is stepping up his game and his opponents one step at a time. He thinks Tyron Woodley is a better striker than Paul's previous opponent, Ben Askren. While he did not predict a clear outcome for this fight, he seemed to lean more towards Woodley.
He even pointed out that the former UFC champion seems prepared, in shape, and seems to have more "pride" than Askren.
"Woodley is a better striker than Askren for sure. I don't know, I've still gotta process it in my mind. Woodley was an MMA fighter but he had some striking background.
"I also think Woodley has a bit more pride than Askren, Askren had no self-worth or self-pride. I don't even think he trained for the fight, he looked that bad. It looked he had a spare tire at the weight in, it was pitiful to look at," said Paulie Malignaggi.
How do you see this fight playing out on August 29?
ADVERTISEMENT
Article continues below this ad
ADVERTISEMENT
Article continues below this ad