Mike Tyson vs Evander Holyfield 3: How Will the Fight Fare in Today's Time?
Published 09/13/2021, 2:20 PM EDT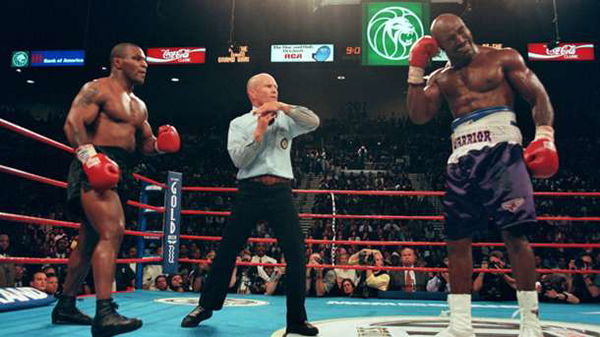 ---
---
Boxing legend Evander Holyfield finally made his comeback to the squared circle. On September 11, he stepped into the ring with former UFC champion Vitor Belfort. To summarise his return to the ring, the 58-year-old seemed slow, disoriented, and just not like his old self. After his worst career defeat yet against a former MMA fighter, Holyfield wants to fight Mike Tyson next.
ADVERTISEMENT
Article continues below this ad
Should a Tyson-Holyfield 3 even happen and if it does, what would it look like?
Watching Evander Holyfield knocked down on the canvas was not a pleasant experience for most fans of the sport.  With nearly 10 seconds left in the first round, the referee had seen enough. The fight was waved off as the boxing icon was clearly taking immense damage and was unable to effectively defend himself.
ADVERTISEMENT
Article continues below this ad
His loss against an opponent, who is fourteen years younger than him, could have painted the wrong picture for many first-time viewers. Holyfield, in his prime, was ruthless and has defeated the likes of George Foreman, James Douglas, and Larry Holmes.
He even defeated 'Iron' Mike Tyson twice in 1996 and 1997. Since then, fans have dreamt of a third bout between the two legends. However, the tides have now changed. With recent developments, it now seems those dreams could soon become a reality.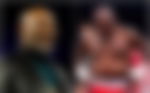 After his first-round knockout loss against Vitor Belfort, Evander Holyfield revealed that he would be open to revisiting his bittersweet rivalry with the youngest heavyweight champion of all time.
Mike Tyson is now 55 and 'The Real Deal' is 58. Is this 24-year-old rivalry worth another shot and is it a good idea for the two veterans to compete again?
Mike Tyson looks ferocious even at 55
Mike Tyson was the first legend of the sport to reenter the ring after a decade of inactivity and retirement. He fought Roy Jones Jr in November 2020. Even though this exhibition bout had rules that protected both fighters from heavy damage, Tyson definitely surprised his fans.
The eight-round bout ended in a split draw. However, nobody ever expected Mike Tyson to be active, agile, and ferocious at 55. His training clips show that he is not too far apart from where he left the sport in 2005. He's got the hands, the speed, the agility, and the movement. Against Jones Jr., Tyson showed his iconic peek-a-boo style as well.
Evander Holyfield might not be able to handle 'Iron' Mike
However, Tyson's current state at 55 is a clear contrast to Evander Holyfield's form at 58. In recent pad-work clips, Holyfield seemed unnaturally slow and his overall movement looked off as well.
Before the fight, many in the boxing community even lobbied for the Triller bout to be called off due to his condition and form in training.
As expected, Holyfield underperformed, tried to throw a heavy hook at Belfort, missed, and nearly slipped out of the ring with the force of his own punch. Vitor Belfort even knocked him down and sent him flying towards the ropes with a mean uppercut.
It became clear from his recent training videos and even his comeback fight that Holyfield's best days are behind him. Even though that is a hard pill to swallow, 'The Real Deal' might have to consider finally hanging up the gloves.
Should this fight even happen?
It is impossible to predict if a 44-year-old fighter would be able to do the same to Mike Tyson or not.
However, his training videos and even his last fight suggest that he would have done a much better job at defending, enduring, and even striking than Holyfield.
Video evidence of their recent in-ring experiences clearly points at one thing- Evander Holyfield should probably call it a day.
ADVERTISEMENT
Article continues below this ad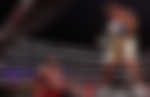 A legend of the sport with achievements that most contemporary fighters can't even come close to, should not have to go through what he did.
In a potential trilogy fight against Mike Tyson, chances are it would not end well for Evander Holyfield. 'The Baddest Man on the Planet' is still active on his feet, moves like a 30-year-old, and his punches still hit like "a horse kick to the head". On the other hand, the 58-year-old is far from where he left the sport in 2011.
ADVERTISEMENT
Article continues below this ad
Taking all factors into consideration, would you like to see the two legends clash in the ring?
Enjoyed reading this article? Download our exclusive app to get 24x7 coverage, latest memes and social media banter. Click here to download.