Mike Tyson's Career Losses: Who Defeated The Phenom and How?
Published 03/07/2021, 4:00 PM EST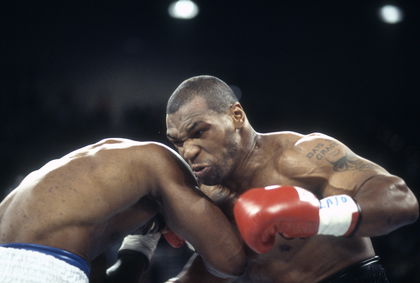 ---
---
The name Mike Tyson is synonymous with in-ring violence and treachery, as the entire boxing world saw him reign over the heavyweight division in his prime. After a sensational debut against Hector Mercedes in 1985, Tyson became one of the most active youngsters in the sport.
ADVERTISEMENT
Article continues below this ad
He piled up KO wins very often, and within two years, he became the youngest man ever to claim a heavyweight championship. Tyson was just 20 back then, and his record is still untouched after 34 years. Apart from success and titles, Tyson has also enjoyed stardom and money.
However, his career saw some dooming losses that are remembered even to this day. Here's a look at his pro-defeats.
ADVERTISEMENT
Article continues below this ad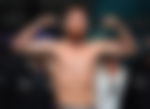 Mike Tyson's career win-loss in boxing
Tyson holds a professional boxing record of 50 wins, 6 losses, and 2 no contests. He has been a world champion multiple times, with 44 Knockouts and a 75.86% KO ratio under his name. Meanwhile, Tyson has been KOed four times with one loss coming via RTD and one via disqualification. So, here's a look back at his defeats.
Mike Tyson vs James Douglas- (WBC, WBA, IBF title fight)
Following an unbeaten run of 36 fights, Tyson surrendered his WBC, WBA, and IBF heavyweight titles after a shocking loss to James Douglas in 1990. It was a controversial fight, as Tyson claimed he was robbed. He floored Douglas in the clash but couldn't keep him down.
Meanwhile, James Douglas returned the favor in round 10 of the 12 rounds fight, flooring down Tyson with thunderous shots. For the first time, Tyson was dominated, and in a major shocking upset, he had to depart with the first loss of his pro career.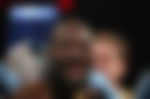 Mike Tyson vs Evander Holyfield (WBA title fight)
One of the most popular rivalries in the sport, Tyson vs Holyfield took place for the first time in 1996. By that time, 'Iron' Mike had staged a 10-fight win-streak since his first loss against Douglas. Hence, he was touted as the favorite against Holyfield and it seemed valid for the first few rounds.
However, 'The Real Deal' began putting pressure as the rounds flew by, and stopped Tyson in round 11 of their headlining clash. The fight ended badly and planted the seeds of a re-match.
Mike Tyson vs Evander Holyfield 2 (WBA title fight)
Following a failed attempt at Holyfield, Mike Tyson bagged a rematch within six months. But, it turned out to be one of the most controversial fights ever in boxing history. Tyson became the aggressor from the very first round and had clear intentions of hurting Holyfield.
Unfortunately, Tyson lost his calm and breached the boxing protocols in round three as he bit off a piece of Holyfield's ear. The two got involved in a clinch and Tyson planted his teeth on Holyfield's ear.
In no time, Holyfield found blood on the spot, and Tyson was disqualified from the bout, receiving the third defeat of his pro career.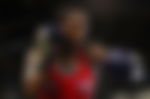 Mike Tyson vs Lennox Lewis (WBC, IBF, IBO title fight)
The matchup had a dirty build-up where Tyson spat some venomous comments on his Brit rival. He even turned it personal by talking roughly about Lewis' family. While Tyson already had three wins since losing to Holyfield, he appeared confident about vanquishing the 'Lion'. However, it was a lopsided show in favor of the Brit.
The in-ring collision saw Tyson falling prey to Lewis' antics several times. Although he had his minor moments, they weren't enough to bag the win. In round eight, Lewis left no doubt as he knocked out Tyson in front of a live crowd at The Pyramid, USA.
Mike Tyson vs Danny Williams
In a non-title fight, billed as the 'Return for Revenge', Tyson entered as a massive favorite against Danny Williams. He even displayed the same and staggered Williams with some good shots. But Williams bounced back in round two and impacted his game plan. Although Tyson managed to surpass that, Williams knocked out Tyson in round four.
Despite Tyson's will to get back to his feet, the referee stopped the count and 'Iron' had to depart with another humiliating loss in his career. But, he had already reached the end by then and had nothing more to prove.
Mike Tyson vs Kevin McBride
ADVERTISEMENT
Article continues below this ad
In the last fight of his career, Tyson quit on the stool in round seven and hung his gloves as a professional. He entered the ring against Kevin McBride in 2005 and began landing haymakers from the initial stage. McBride used his long-range and continued to dictate the pace.
The fight had several ups and downs, and both the men had showcased their prowess. However, Tyson had sustained more damage and in round seven, it appeared too much for him to return. When he refused to leave his corner, McBride was awarded the win via RTD.
ADVERTISEMENT
Article continues below this ad
Amid all these losses, Tyson is still one of the greatest boxers ever and an enormous ambassador of the sport. That said, he remains relevant in the ongoing boxing talks.