Mike Tyson's Love Life: 7 Women 'Iron Mike' Has Dated
Published 01/09/2021, 1:52 PM EST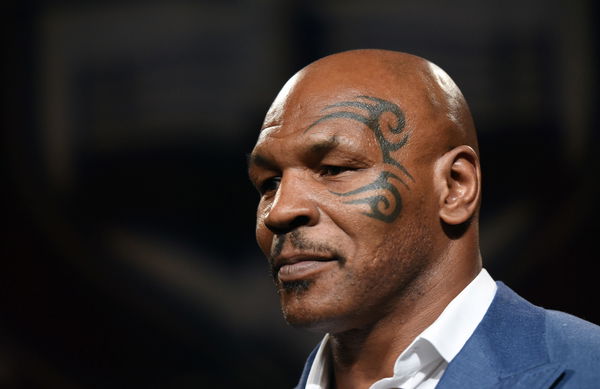 ---
---
Mike Tyson, the heavyweight boxing legend, became a global phenomenon back in the 90s when he was seemingly enjoying his reign over the division.
ADVERTISEMENT
Article continues below this ad
While his boxing earned him the moniker of the 'Baddest Man on the Planet', Tyson expanded his stardom with endorsements and frequent television appearances.
Before going bankrupt in 2003, 'Iron' Mike led a lavish life and his antics earned him a permanent spot on the front page. While his gigantic mansions, luxurious cars, and exotic pets garnered human interest, Tyson's love life was also on people's radar as the heavyweight pugilist dated several women.
ADVERTISEMENT
Article continues below this ad
Mike Tyson also married multiple times but later got divorced and as per Sports Casting, 2 of those divorces cost him $16 million. Aged 54, Tyson regained his financial empire with umpteen ventures.
However, his glittery love life continues to grab eyeballs. Tyson reportedly dated a number of women in his life, and boxing fans aren't aware of all the names.
Mike Tyson and his sweethearts
Robin Givens
Tyson married Givens in 1988, and the pair was highly celebrated back then. But following a troubled phase, they split up. Tyson revealed that he caught his wife with Brad Pitt in a romantic engagement. Although they tried to work through the rough patch, it didn't happen.
Monica Turner
Mike Tyson and Monica Turner tied the knot in 1997. It was big news back then as Tyson was advancing towards the dusk of his career.
The pair made several headlines and got global attention. However, they followed a similar misfortune after failing to settle the differences between them. They stayed together for 6 years, and then Turner filed for a divorce.
Lauren Woodland
The American actress dated Mike Tyson for a long time. The two were also rumored to marry each other. However, they reportedly broke up in 2002 and went their separate ways. Woodland is still one of the most popular women to have been with 'Iron' Mike.
Sol Xochitl
Xochitl and Tyson dated each other in 2005 and reportedly had a daughter- Exodus Tyson. Unfortunately, their daughter died in a traffic accident and Tyson's life changed afterward. Although he didn't continue his relationship with Xochitl, it remains a special phase in Tyson's life.
Naomi Campbell
The British mode and Tyson reportedly dated each other for one year. The audience and fans praised them back then, but the pair eventually parted ways after some time. Naomi Campbell and Mike Tyson endured as the most popular celebrity couple for a long time.
Coco Johnsen
The US adult model and Tyson dated each other back in 1996. As per reports, they were close to each other and were also rumored to have tied the knot. But they didn't and eventually parted ways soon enough.
Lakiha Spicer
ADVERTISEMENT
Article continues below this ad
Tyson's 3rd and current wife Lakiha Spicer married the heavyweight champion in 2009 and has been by his side since then. They are a happy family now. Following a lot of turbulence in that arena, Tyson finally found his lady love
Mike Tyson's life has been an open book with several twists and turns. Still, he has extolled his athletic achievements as he is one of the greatest boxers to have ever played the sport.
How would you rate Tyson's career from 1 to 10?
ADVERTISEMENT
Article continues below this ad