Scott Cooker Invites Katie Taylor to Bellator: "Why Is It That Always the MMA Fighter Has to Go to Boxing?"
Published 11/20/2020, 4:27 AM EST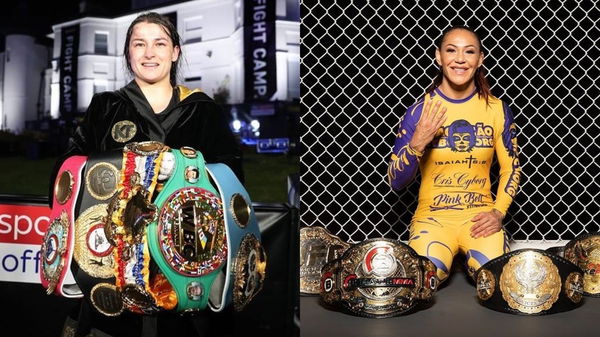 ---
---
Bellator President Scott Coker is open to hosting a fight between boxing champion Katie Taylor and MMA champion Cris Cyborg.  However, he doesn't find it see it fit to send Cyborg inside the squared circle if Taylor isn't willing to step inside the octagon.
ADVERTISEMENT
Article continues below this ad
While the cross-promotion contest has already created a huge buzz in the combat community, Scott Coker has just added some more thrill into it. If the fight takes place, it will be a revolutionary event for the women's roster as it will garner global attention. That said, Taylor and Cyborg have seemingly agreed to lock horns against each other just like Conor McGregor and Floyd Mayweather did three years back.
ADVERTISEMENT
Article continues below this ad
But Coker is of the opinion that it shouldn't be a one-night event. If Cyborg enters the ring against Taylor, he wants the Irish powerhouse to do the same by getting inside the MMA cage against Cris Cyborg. Coker doesn't mind hosting two events back-to-back for his current women's featherweight champion. Meanwhile, Matchroom CEO Eddie Hearn also wants the fight, but it's still unsure whether he will agree to Coker's demand.
Speaking with MMA Junkie, the Bellator president opined that it's unfair to send an MMA fighter inside the boxing ring always.
He said, "I have seen Katie fight. She is amazing boxer and to me I think the only way to make this fair because why is it that always the MMA fighter has to go into boxing?. That' really to me, it baffles me. Why don't they come into MMA? Why don't they come and fight here and maybe we could do one on one? That's the conversation that we were having internally."
Cris Cyborg vs Katie Taylor- The Money fight?
ADVERTISEMENT
Article continues below this ad
Fans have seen how beneficial a cross-promotion fight between an MMA fighter and boxer can be, in terms of finances. When Mayweather and McGregor faced each other, they were blessed with massive paychecks. Thus, boxing can be a preferable option over MMA for Taylor and Cyborg's encounter. However, Coker claimed that MMA is equally beneficial and tagged Cyborg as the highest-earning woman in the sport.
ADVERTISEMENT
Article continues below this ad
Coker said, "I always said the fight goes to boxing and you now what, they say well because boxing pays more. I am telling you right now, no one's making more money than Cris Cyborg in the sport. So, to me, let her (Katie) come over here and fight in Bellator and then when lose or draw then Cyborg can go there."
Considering the recent situation, Taylor vs Cyborg is relevant in the charts. It's a matter of time before the bout gets booked or falls through. Do you think Katie Taylor and Cris Cyborg should have a two-fight deal?