"Never Lacking on That Power": Fans in Frenzy as Female World Champion Boxer Breaks Punching Machine With a Loaded Right
Published 03/11/2023, 1:15 PM EST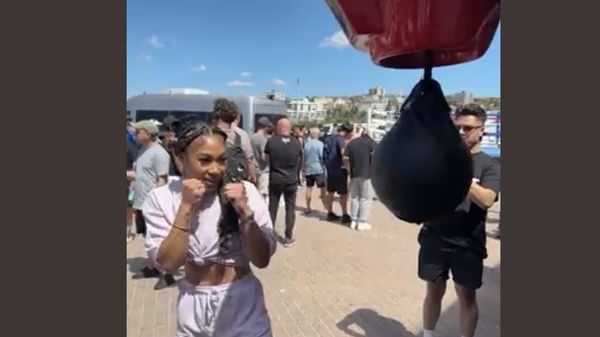 Female boxing is getting more competitive and interesting by the day. With the likes of Claressa Shields, Katie Taylor, and many more, the sport of female boxing is gaining popularity and interest. Another female boxer who is creating huge headlines with her stellar skills is Alycia Baumgardner. She made her professional boxing debut not too long ago and in a short space of time, she has become a WBO and IB0 female super featherweight world champion.
In October 2021, she fought Terri Harper to attain her world championship. The bout was stopped in the 4th round with Alycia going on the offensive right from the bell.  The world of female boxing had a new queen that day and she defended not just her titles but also attained the status of an undisputed world champion last month. 
Recently, she uploaded a new video on Twitter which left fans stunned by the sheer power of her right hand.
ADVERTISEMENT
Article continues below this ad
Fans react to the power behind Alycia Baumgardner right hand
Baumgardner posted a video on her Twitter account in which she punched an arcade punching bag. The trend of punching an arcade punching bag has become very prevalent in recent times. It provides a score at the end after calculating the power of the punch.
The higher the score the harder the punch. But when Baumgardner threw her right hand, the machine did not show any score.
Read more : Promoter Lauds 'Real Fighter' Mikaela Mayer for Taking 'Risk' After Alycia Baumgardner Debacle 
The reason behind the absence of any score shown was that the punch thrown by her broke the machine. It is only in the rarest of rare cases when the machine fails to recognise a score. The fans were left stunned seeing the same.
Here are a few fan's reactions :
One user Grand stated that the boxer never lacks in power.
While another user @BussTheMartian was in shock and praised the technique behind how she threw her right hand. 
Dayum. She hit that mf hard asf without trying to hit hard asf. Lmao yooo techniques on max

— #TGOD BussTheMartian™ (@BussTheMartian) March 9, 2023
Another user mentioned @jayen077 mentioned the fact that she broke the machine by landing a powerful punch.
She broke the machine 😂

— Sensual Chocolate (@jayen077) March 9, 2023
Another user @KC_84TX  was amused by the fact that the boxer broke the punching machine
ADVERTISEMENT
Article continues below this ad
Lastly, a fan with username @YoungStarKev stated that the boxer should not to be messed with.
Don't play with it, shorty got hands 👊🏽💥

— Live Life To The Fullest (@YoungStarKev) March 9, 2023
ADVERTISEMENT
Article continues below this ad
She indeed has an incredible straight right.
The sport of female boxing requires fighters such as her to not only transcend the sport but also to inspire other female boxers.