Oleksandr Usyk Scores Massive Upset Win Against Anthony Joshua – Becomes New Unified Heavyweight Champion
Published 09/25/2021, 6:18 PM EDT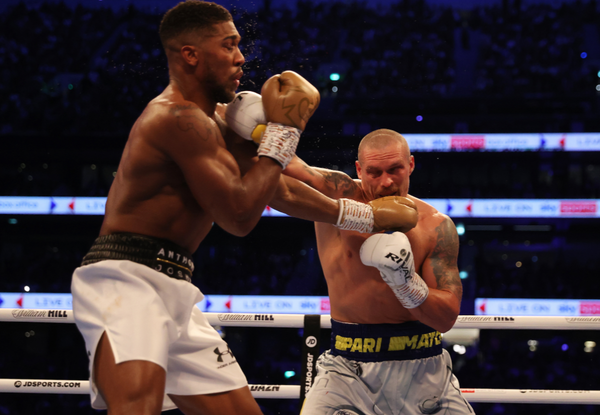 ---
---
Anthony Joshua lost the heavyweight titles in what came as a massive setback for his career, against Oleksandr Usyk. Following all 12-rounds of action, Usyk snatched the WBA, WBO, IBF, and IBO straps from 'AJ' via a clean unanimous decision. No wonder it was a dooming night for the entire London as their hero lost in-shelter. The loss also curbed the potential fight between 'AJ' and Fury, a fantasy heavyweight contest that has been lurking around for years.
ADVERTISEMENT
Article continues below this ad
However, it can be a new beginning of Oleksandr Usyk's heavyweight rise. 19-0 as a professional, Usyk enriched his legacy with an alarming opponent and can target a four-belt unification clash in the future. Here's how he shone brightly in arguably the biggest night of his pro-boxing career.
Shocking Start
ADVERTISEMENT
Article continues below this ad
Oleksandr Usyk offered a tough fight against Anthony Joshua from the very beginning. Starting off aggressive, Usyk found his shots right and battered Joshua with good combinations. However, he had to face a similar heat from the other end.
Standing 19 lbs below his rival, Usyk looked extremely promising. The first three rounds were close. But Usyk had proven his worth by then. A proper left hook shot from him had left Joshua and all the Brit fans shook by the end of round three. As for Joshua, he was in his natural weight as a champion, and should have put more damage on Usyk.
Well, round four was equally disappointing for the UK fans. Usyk resumed the bout with vicious prowess. It urged several fans to recall how Andy Ruiz Jr. had showcased flaws in AJ's game back in 2019, which Usyk rightly exploited.
Anthony Joshua Returned in Fifth
Following the first four intense rounds, Anthony Joshua returned strong in the fifth. The unified heavyweight champion displayed his power and held Usyk's surging dominance in the fight. However, the Ukrainian star still looked sharp. Despite suffering some major blows, 'The Cat' retained himself and entered the sixth round in style.
The Action – Anthony Joshua vs Oleksandr Usyk
While Oleksandr Usyk could have regained his dominance in the sixth, Anthony Joshua began displaying his champion-level mindset. Coming in with his technicality and strength, Joshua planted clean right hooks on Usyk. He didn't hesitate to brawl as the action went deeper. Usyk looked weary at that point.
Round seven began with a similar scene. The entire Tottenham Hotspur stadium cheered as Joshua unloaded a lopsided action. But Usyk turned the tables and looked similar to what he appeared in the initial stage. The Ukrainian star found back his ways to proper shots. It paved the path for an intriguing round eight.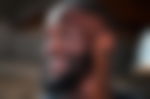 The Drama
In round eight, it was both men's show. Oleksandr Usyk could faint a few shots and trouble 'AJ'. However, Anthony Joshua planted a few uppercuts to the body. The innovative idea worked in his favor as Usyk took steps back. Round nine looked the same, and it couldn't have been a better night of heavyweight boxing.
With injured right eyes and blood coming out of Joshua's nose, the heavyweight title fight took its best form in round ten. As we entered the championship rounds, the scenario intensified. Oleksandr Usyk once again shot Anthony Joshua with clean combinations. But 'AJ' stood strong. And both men made it to the final round of their career-defining clash.
ADVERTISEMENT
Article continues below this ad
Nevertheless, it was an all-out action from Usyk in round 12. A tired Joshua took those shots helplessly with the support of the ropes. Post-fight, 'AJ' was drained and was pushed to the core of his limits. He looked like a beaten man in his home country. Meanwhile, Usyk cried off, while he was awarded the belts around his waist.
What do you make of Anthony Joshua's performance tonight?
ADVERTISEMENT
Article continues below this ad
Watch This Story: 7 Things Anthony Joshua Can't Live Without