Oscar De La Hoya Admits Floyd Mayweather Sr. Is the Best Coach He Has Ever Had
Published 10/19/2021, 5:30 PM EDT

Follow Us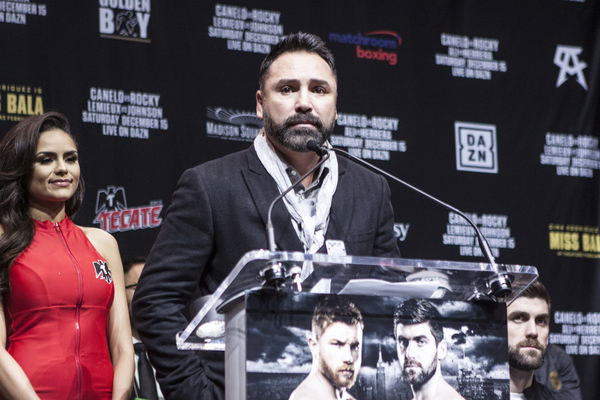 Oscar De La Hoya looks to make a return to boxing. The former world champion is back in the spotlight after around 13 years away from the ring. Mike Tyson started the trend of comeback fights when he took on Roy Jones Jr back in 2020. Since then, legends of the sport have wished to come back to the ring.
Oscar De La Hoya recently took to his Instagram to have a Q&A session with his fans. One of the fans asked 'The Golden Boy', "Was Big Floyd your best trainer?" to which De La Hoya plainly replied saying "Yes". This is not the first time De La Hoya openly that Floyd 'Money' Mayweather's father was his best coach.
ADVERTISEMENT
Article continues below this ad
Back in 2019, he spoke about why Mayweather Sr. was the best. "Sr. at the end of my career, like he gave me, he inspired me, he gave me motivation. I mean, he wouldn't let me sleep in you know. He would yell at me, I mean, but that's what I needed. I mean, I was already established, and he did wonders for me so, I appreciate that he says that." De La Hoya said.
Sr. also offered to train De La Hoya for his fight against his own son Mayweather Jr. However, De La Hoya declined the offer. Now that De La Hoya looks to make a comeback to boxing, he may look to Mayweather Sr. again, to train him for his comeback fight.
What's next for Oscar De La Hoya?
De La Hoya looked to fight Vitor 'The Phenom' Belfort earlier this year as his comeback fight. However, just days before the fight, they admitted De La Hoya to the hospital when he tested positive for COVID-19. Triller replaced De La Hoya with Evander 'The Real Deal' Holyfield for the main event.
ADVERTISEMENT
Article continues below this ad
Quería que escucharas directamente de mí que a pesar de estar completamente vacunado, contraje Covid y no voy a poder pelear el próximo fin de semana. Prepararme para este regreso ha sido todo para mí durante los últimos meses y quiero agradecer a todos por su tremendo apoyo. pic.twitter.com/9q4NUnccl7

— Oscar De La Hoya (@OscarDeLaHoya) September 3, 2021
Now that De La Hoya has recovered and is back in training, he is looking for his next fight. De La Hoya already called out Floyd Mayweather for a fight and offered him $100 million dollars to fight him. Who do you think De La Hoya should fight next?
ADVERTISEMENT
Article continues below this ad
Do you want to see 'The Golden Boy' make a comeback to the boxing ring?
Watch this story: Five Intriguing Facts About Shakur Stevenson