Oscar De La Hoya Confirms His Abs Are Not Real, Ending Speculation and Debate
Published 01/12/2023, 8:00 AM EST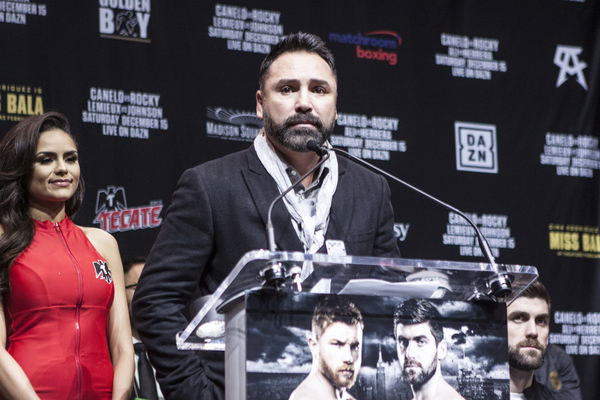 Former 6 division champion and boxing promoter Oscar De La Hoya have been the talk of the boxing world after revealing his transformed physique, shocking the fans. The 49-year-old went viral after a video of him showcasing his unrealistic abdominal muscles made waves on the internet.
However, many started speculating whether these abs were due to hard work or were supplemented by other things. Moreover, some even claimed that De La Hoya might have gotten surgery and got himself abs. Now, he himself has cleared out any doubt regarding this as he went on to confirm his abs were indeed not real.
Oscar De La Hoya confirms his abs are fake
ADVERTISEMENT
Article continues below this ad
De La Hoya recently posted a picture of him shirtless where he was bombarded with comments on his abs. These questions were mostly fans asking whether his muscles were real or not. Following this, 'Golden Boy' revealed that his abs were not real in another post and claimed he spent way too much money on these muscles to not be shirtless.
 

View this post on Instagram

 
"Good luck @gervontaa! P.S  I paid way too much money for these abs to ever wear a shirt again." he wrote. De La Hoya's recent girlfriend Holly Saunders revealed that she was in support of De La Hoya's choice and was with him.
Despite the former champ now being 49 years old, he still wants to look like he did in his prime. However, this is not possible naturally, which is why he might have taken such measures which all come with their own risk.
Why did La Hoya get AB implants?
ADVERTISEMENT
Article continues below this ad
The boxing promoter is going through some tough times, even recently filing for a divorce from his wife. However, De La Hoya has a new girlfriend in Holly Saunders who is much younger than the former champion. Although it is not exactly clear why De La Hoya chose to get new abs surgically, it might have to do with him trying to relive his glory days.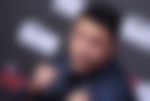 However, unlike many others, the Mexican legend showed transparency in his approach after being called out. This shows that he is not shy to talk about such controversial topics in a light-hearted manner when it comes to his own body.
ADVERTISEMENT
Article continues below this ad
What did you think about De La Hoya coming out clean and revealing his abs were fake? Let us know in the comments.
Watch This Story: Boxers Who Suffered the Worst Cuts in History
Edited By: Ajinkya Aswale