Oscar de la Hoya Hints He'll Destroy Canelo Alvarez in His Prime
Published 09/23/2021, 11:53 AM EDT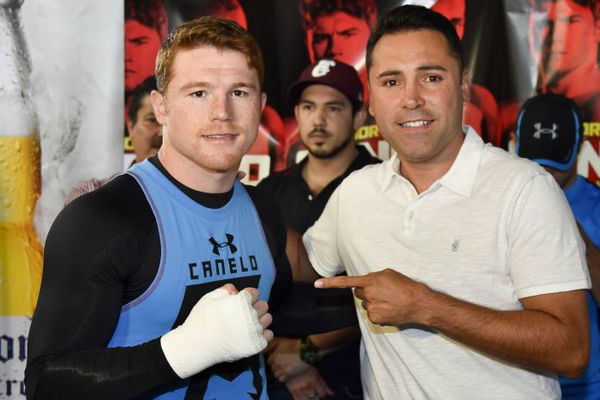 ---
---
48-year-old Oscar De La Hoya recently responded to a question on his social media. He was asked if, in his prime, he would be able to defeat the p4p king Canelo Alvarez in his prime.
ADVERTISEMENT
Article continues below this ad
This came soon after Canelo Alvarez and Caleb Plant threw hands at each other at their recent press conference. The boxing icon shared his response to this question with a video, in which he made it seem like there is only one right answer to this question.
"Prime Canelo and prime De La Hoya, are you f***ing kidding me? Come on!" said Oscar De La Hoya.
ADVERTISEMENT
Article continues below this ad
After a COVID-19 induced delay in his comeback to the boxing ring, Oscar De La Hoya has now recovered and is making some noise in the boxing community. He recently even called out Floyd Mayweather for a $100 million mega-fight.
Hoya has now promised a return to the boxing ring before the end of this year. He has now given up on pursuing a mega-fight with Canelo Alvarez; instead, he has redirected his efforts towards calling out Floyd Mayweather and even Felix Trinidad.
However, his initial opponent, Vitor Belfort, is the only fighter who really wants to fight him. The former UFC champ recently suggested that de la Hoya announced that he had Covid a day after Belfort signed on to a strange set of clauses in their contract.
Oscar De La Hoya pleased with Canelo Alvarez vs Caleb Plant brawl
The boxing community is now eagerly looking forward to November 6. Pound-for-pound king Saul Canelo Alvarez and IBF champion Caleb Plant are now all set to fight for the undisputed super middleweight championship.
Every time Canelo Alvarez fights, it's a celebration. On November 6, the Mexican champ will fight for the 60th time in his pro boxing career. This could easily be one of his biggest challenges as it could make him an undisputed champion with an impressive record of 56 wins, 2 draws, and a single career loss against Floyd Mayweather.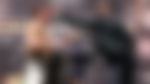 Ahead of their actual fight, the two finally met at an early press conference. Canelo and Plant got into a heated exchange at the event.
During their face-off, Canelo Alvarez pushed Plant for saying "motherf****r". The Tennessee native shook it off, walked back up, and swung a flat-handed left-hook at Alvarez.
Before he could even throw that hook, Canelo Alvarez threw his shades on the ground and immediately got into a fighting stance. In a split second, Canelo landed two counter-punches at Plant right away. This caused a slight cut on Plant's face as well.
ADVERTISEMENT
Article continues below this ad
Even Oscar De La Hoya was fascinated by this exchange. He even said that Caleb Plant's left-hook was "real".
"I thought it was great; it's going to be a great fight. I can't wait to see it. 
ADVERTISEMENT
Article continues below this ad
"Definitely real; that left hook that Caleb threw and dodged from was real. It was absolutely real," said Oscar De La Hoya.