Paris Fury Wants Tyson Fury to 'Stop' After Anthony Joshua- "It's a Dangerous Sport"
Published 03/02/2020, 4:06 PM EST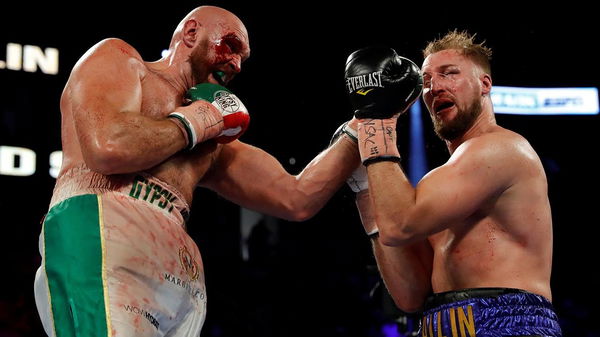 ---
---
Paris Fury has urged the WBC and lineal champion Tyson Fury not to fight Deontay Wilder. The reasons for the same revolve around ''the Gypsy King's'' safety.
ADVERTISEMENT
Article continues below this ad
Speaking to the Mirror's Phil Cardy Paris Fury said:
"I'd like him to beat Anthony Joshua and then stop. He's in the ring with supreme boxers and it is a dangerous sport. We both know the risks. I know one shot can change everything.
"If they put all the belts on the line it would be such an amazing fight. I'd like him to take that one fight
ADVERTISEMENT
Article continues below this ad
and retire undefeated. He can't go on forever, he can't go undefeated forever. I wouldn't like to see him continue for too long and get hurt."
Blood bath-Tyson Fury vs Otto Walin:
This concern is justified given the intensity of injuries fighters face on a regular moreover, Last time around Tyson Fury received 47 stitches after his ''Blood bath'' with Otto Walin proving that serious injuries are always around the corner. Tyson Fury looked extremely dominant against Deontay Wilder finishing ''The Bronze Bomber'' in 7 rounds.
This is one of the reasons there's not a huge appetite for the rematch with most fans itching for an all-Brit heavyweight showdown. A unification Bout is something that serves both sides. It sets up a perfect ''winner takes all'' fight with Tyson Fury and Aj forced to put it all on the line and The financial benefit to both fighters is immense however Eddie Hearn believes there's plenty of jealousy in the sport.
'I think Fury does want to fight Joshua,' Hearn told Fight Hype. 'All these guys have got a little bit of a chip on their shoulder about AJ. 'He made double what Tyson Fury did for his last fight challenging for a world heavyweight title against Andy Ruiz.
ADVERTISEMENT
Article continues below this ad
Irrespective of these monetary claims a clash between these two would be immense given what's at stake.
READ Official! Deontay Wilder Sets Up a Sensational Trilogy Against Tyson Fury
ADVERTISEMENT
Article continues below this ad