PHOTO: Loser of Jake Paul vs. Tyron Woodley Has to Get One of These Embarrassing Tattoos!
Published 08/26/2021, 9:45 AM EDT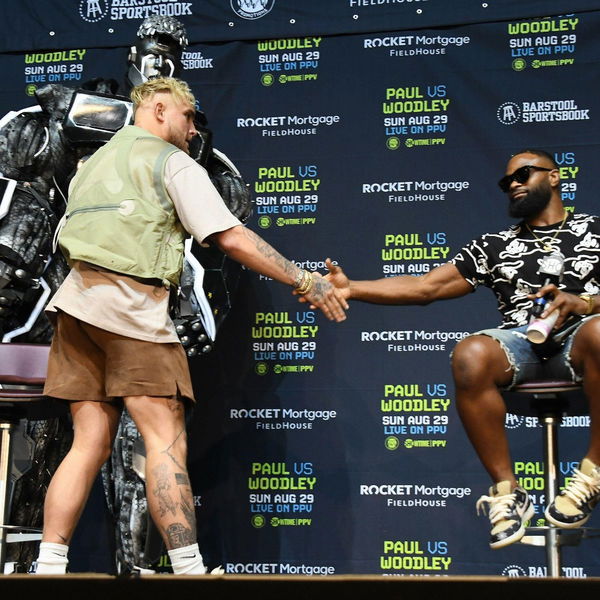 ---
---
The wait is finally coming to an end. Jake Paul and Tyron Woodley are now all set to face each other in the ring on August 29. As the two head into battle this weekend, the magnitude and the consequences of this fight are finally settling in.
ADVERTISEMENT
Article continues below this ad
Jake Paul is just starting off in his pro-boxing career and he needs this win to be taken seriously by the boxing and MMA community. From living up to the UFC champion tag to proving himself against a YouTube star, Tyron Woodley also has a lot riding on this fight as well.
ADVERTISEMENT
Article continues below this ad
A loss for either of the two could be extremely detrimental to the progress that they have made so far in their extraordinary careers. Apart from just their reputations in the sport, there is something even bigger at stake here- a tattoo.
At the Cleveland press conference, Jake Paul and Tyron Woodley shook hands and signed onto a very heterodox deal.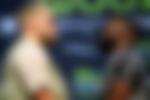 They agreed that the loser of the 8-round cruiserweight battle will have to get either 'I Love Tyron Woodley' or 'I Love Jake Paul' tattooed, depending on who the victor is.
What started as yet another Jake Paul stunt has now developed to newer heights and it seems this tattoo deal is real and is absolutely not a joke.
Jake Paul vs Tyron Woodley – The tattoo at stake
Many analysts and experts have said that this is a great psychological gameplay tactic used by Jake Paul. The 24-year-old is even flying out Katherine Flores or 'Tatu Baby' to get the loser inked after the fight.
CEO of Miami-based 'Till The End Tattoos', 'Tatu Baby' recently shared on Instagram that Jake Paul had reached out to her to ink the loser of the bout. She even revealed tattoo designs on Instagram that have now been finalized.
The very thought of the loser of this bout rocking one of these designs for the rest of their lives is frightening, even for fans. Tyron Woodley has laughed this 'tattoo deal' off in previous interviews. However, it definitely adds to what is actually at stake for this mega fight. Jake Paul even wants the loser to post a picture of the tattoo on Instagram as proof.
ADVERTISEMENT
Article continues below this ad
In a recent sit-down video, UFC legend Chael Sonnen chuckled at this tattoo bet. He pointed out that tattoos are permanent and there is no proper way to deny that. Sonnen added that this could either be a clear sign of confidence or both fighters got caught up in the moment and finalized a tattoo deal.
With the actual tattoo design options finalized, this is not a joke anymore. Fans are now on the edge of their seats to know who will actually end up getting this design inked. A bet like this will definitely bring a lot of fresh eyes to the fight as well.
ADVERTISEMENT
Article continues below this ad
How do you see this playing out on August 29?