Coach Warns: Mike Tyson Will "Smash" Logan Paul's Fantasy in a Boxing Match
Published 08/13/2021, 7:48 AM EDT
---
---
In contemporary combat sports, possibilities are endless. Despite heavy criticisms from the pro-boxing community, the Paul brothers have made a name for themselves in a brief span of time. They have made a dent in the sport by primarily leveraging their online viewership. Their ability to bring fresh eyes and generate big pay-per-view sales makes Jake and Logan Paul key assets in the sport.
ADVERTISEMENT
Article continues below this ad
In June, Logan Paul made a lot of eyes turn after he surviving eight rounds with boxing's greatest ever, Floyd Mayweather. Ever since that fight, talks of his next possible fights have surfaced on the internet and social media.
ADVERTISEMENT
Article continues below this ad
Logan Paul has teased interest in MMA and has even spoken about the possibility of him facing Mike Tyson. He saw an element of humor in fighting the 55-year-old boxing legend. However, he believes his age advantage could help him defeat the 55-year-old in a boxing match.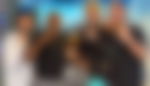 In a recent interview, Mike Tyson's coach Rafael Cordero chuckled when asked about his thoughts on Mike Tyson possibly fighting the Ohio native-
"Sometimes in life, reality comes and smashes fantasy. Just saying," said Cordero.
Mike Tyson vs Logan Paul – Possible Scenarios
Fans and boxing purists know what Mike Tyson is truly capable of. Even at 54, 'The Baddest Man on the Planet' looked ferocious against boxing legend Roy Jones Jr in 2020. His ability to defend, bob and weave and show agility in movement surprised fans. In their prime, the fight between the two would have been a different ballgame. While the 55-year-old cannot professionally compete with other 220 lbs active contenders, fighting Logan Paul would be a different scenario altogether.
Given that Paul is a natural cruiserweight, a matchup between the two would have to be set at a catchweight mark in the 200-210 lbs range. There was a point in his last fight when 'The Maverick' threw wide-angled body hooks at 'Pretty Boy'. Logan Paul could dare to unleash haymakers because of the size difference. However, that approach simply would not work against Mike Tyson.
Mike Tyson's iconic peek-a-boo boxing style has always allowed him to dodge shots and land incredibly powerful knockout shots. Based on limited footage of Logan Paul in sparring and action, he likes to be the more explosive fighter and aims to drop his opponents at all times. It was also clear from the Mayweather fight that defense was not his strongest suit, as he hardly had his guard up throughout.
ADVERTISEMENT
Article continues below this ad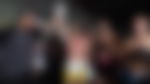 If Tyson can still fight as he did in the Roy Jones Jr fight, Logan Paul's lack of defense and unorganized explosive striking approach could get him knocked out. However, if the 26-year-old can furnish his defense and adopt a 'stick and move' approach, he would have a better chance at surviving Tyson's power and perhaps even winning.
Is this the craziest idea or do you think it could actually happen?
ADVERTISEMENT
Article continues below this ad