Rapper Blueface Is Training Hard For His Bare-Knuckle Boxing Debut
Published 07/02/2021, 7:30 PM EDT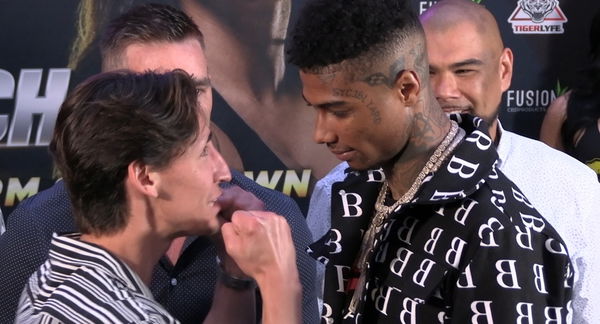 ---
---
Hip-hop star Johnathan 'Blueface' Porter recently signed a deal with Bare Knuckle Fighting Championship to fight TikTok influencer Kane Trujillo (Neumane). Blueface is now training hard with pro-boxer David Kaminsky for his bare-knuckle fight on July 23rd. The rapper revealed he plans to get his hand raised, and he is looking forward to securing a $25,000 knockout bonus.
ADVERTISEMENT
Article continues below this ad
The rapper's pro-boxing trainer, David Kaminsky (6-1-0), is confident in his abilities and says that he is currently in good form.
Watch this Story: Every Time Mike Tyson Got Knocked-Out Inside The Boxing Ring
ADVERTISEMENT
Article continues below this ad
"We've only been training for about two weeks now. We sparred yesterday. He impressed me yesterday, but we still have like two weeks left, and he's looking good," said Kaminsky.
Influencer-turned-boxers like the Paul brothers are now executing large-scale boxing events against big names in combat sports like Floyd 'Money' Mayweather and Ben Askren. Clearly, celebrity boxing is now picking up.
Bare-knuckle fighting is a much more dangerous sport because of its no-gloves policy; however, that does not seem to faze the rapper, as he appears confident in his approach.
"I never boxed. I'm a gang member, so I just fight a lot," Blueface explained.
Is celebrity boxing here to stay?
Blueface is training hard and giving it his all to get his hand raised against Neumane. However, this odd matchup has added fuel to the general criticism against celebrity boxing.
Following major events like Logan Paul vs Floyd Mayweather, Jake Paul vs Ben Askren, or the "YouTubers vs TikTokers" event, many fans now disdain celebrity boxers for affecting the quality of the sport.
Skillset Magazine suggests that moving the focus of what sells a fight away from the actual skills of professional boxers could have negative repercussions on the sport.
However, as internet icons like Logan and Jake Paul are now opening up the sport of boxing to new communities and audiences, some argue that such events could help the sport gain more traction.
ADVERTISEMENT
Article continues below this ad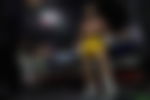 Determined to win a knockout bonus, Blueface is now working hard to get the win against Neumane on July 23rd. As for his plans for his future in combat sports, Blueface said, "I'll take it as seriously as it takes me".
Considering both sides of the equation, what do you make of celebrity boxing?
ADVERTISEMENT
Article continues below this ad