Recently Injured Eddie Hall Gives Bold Prediction for Boxing Match Against Hafthor Björnsson
Published 09/05/2021, 5:29 PM EDT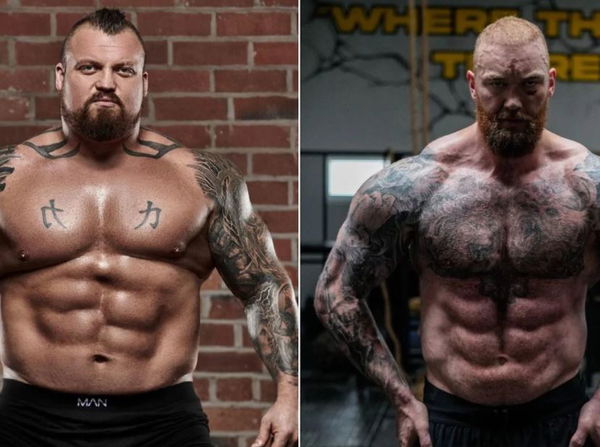 ---
---
The highly anticipated 'Heaviest Boxing Match in History' between Strongman athletes Hafthor Bjornsson and Eddie Hall was initially scheduled for September 2021. However, Eddie Hall recently shared in June that he had suffered a detached bicep injury while sparring.
ADVERTISEMENT
Article continues below this ad
Since then, Eddie Hall is now recovering and has made immense progress. He has also shared multiple Instagram posts after his bicep tear surgery suggesting that he is now back in the gym. Hall has also shared videos of him sparring with one hand inside the ring.
In a recent interview, Eddie Hall shared that he is now looking forward to facing his long-time Strongman rival, Hafthor Björnsson. Ahead of their rescheduled bout, he even made a bold prediction.
ADVERTISEMENT
Article continues below this ad
He does not see the 6-round fight go beyond the 3rd round. He pointed out that he will step into the ring with the aim of putting the Icelandic Strongman away in one round. However, he added that he will be prepared for all six rounds.
"It's like a Pandora's box we're opening. You've got two of the biggest men on the planet going at each other,
so I'm leaving no stone unturned.
"I'm coming in with the thought 'I'm going to knock him out in round one,' but I'm also going to be able to last six three-minute rounds if I need to. So everything's there and all bases are covered. There's no stone unturned. I think the third round will be the end for him. That's what I'm aiming for," said Eddie Hall.
 Eddie Hall and Hafthor Bjornsson share bad blood
'The Heaviest Boxing Match in History' between two of the strongest men on the planet came about because of their existing rivalry. Eddie Hall broke all won the 'World's Strongest Man' tag in 2017 after successfully completing 500 kgs (1102 lbs) lift. For a while, it seemed like Eddie Hall had hit the peak, and going beyond his limit seemed nearly impossible.
After coming in second and losing to Hall at WSM in 2017, the Icelandic Strongman accused him of cheating. The referee cut two points in 2017 for Thor's 'double-dip' foul. However, the Game of Thrones star protested against this claim and accused Eddie Hall of rigging the event. The Briton later disproved Thor's arguments by releasing an analysis video of the event.
However, Hafthor Bjornsson soon turned things around. He has held multiple 'Europe's Strongest Man' titles and is more commonly recognized as Gregor "The Mountain" Clegane in the HBO series Game of Thrones.
ADVERTISEMENT
Article continues below this ad
Thor pulled off the unfathomable by going beyond the record high weight; he successfully lifted 501 kgs (1105 lbs) and stripped Eddie Hall of the 'World's Strongest Man' title in 2018.
ADVERTISEMENT
Article continues below this ad
Since then, the two have taken shots at each other on social media and the feud has still not seen an end. That is how talks of this boxing match came about and both athletes want to end the beef in the ring. However, with the bout being postponed due to Eddie Hall's injury, fans will have to wait to see the world's strongest man clash it out.