Ryan Garcia, Oscar De La Hoya, and the Boxing World React As Jake Paul Decisions Tyron Woodley
Published 08/30/2021, 12:41 AM EDT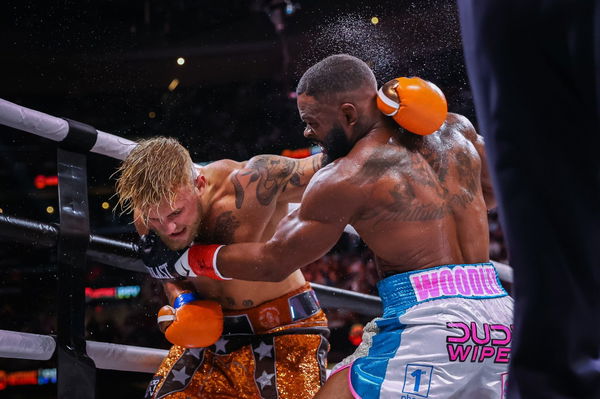 ---
---
Jake Paul faced Tyron Woodley in Cleveland, Ohio in his fourth fight as a professional boxer. The world tuned in to watch what Paul is made of and how he fared against a former UFC champion like Woodley. In fact, Woodley was the first opponent Paul faced with any sort of striking experience.
Paul started the fight strong with a good stance and landed 6 strikes on Woodley while 'The Chosen One' was rather reserved in his approach. Paul taunted Woodley in the second round as well. 'The Problem Child' used his jab quite well. Woodley looked solid defensively during the earlier half of the fight.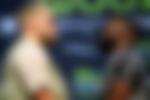 Boxing fans and fighters around the world reacted on Twitter to the ongoing Paul vs Woodley fight. Here, we take a look at some of the best reactions.
Twitter reacts to Jake Paul vs Tyron Woodley
The contest started with both men having a rather cautious approach. But some action unfolded as the contest progressed. Oscar De La Hoya greeted both men ahead of their contest.
Paul slowed down during the fourth round after getting caught with a clean shot at the end of the third. Woodley caught Paul with a big shot at the end of the fourth round.
Woodley started to get more comfortable as the fight progressed. He caught Paul once again in the seventh round with a left hook. 'The Problem Child' is breathing heavy. Woodley's left hook has been a real weapon in this fight.
Woodley has started the final round strong, throwing big winging shots. T-Wood has been searching for the finishing shot that can possibly win him the fight against a visibly fatigued Paul.
Paul got the decision in what was a pretty boring fight in fans' opinion. Woodley remained gun shy despite hurting Paul and with 'The Problem Child' being visibly fatigued. One might have expected more from the former UFC champion.
Ryan Garcia reacted to the bizarre fight that just went down.
Famous trainer, Teddy Atlas believed both fighters actually proved something with their performances.
Woodley wanted an immediate rematch against Paul. He believed he should have won the fight and landed the bigger shot. What the future holds for both of them, remains to be seen.