Ryan Garcia Points Out Overlooked Detail That Sparked Canelo Alvarez's Brawl With Caleb Plant
Published 09/25/2021, 3:34 PM EDT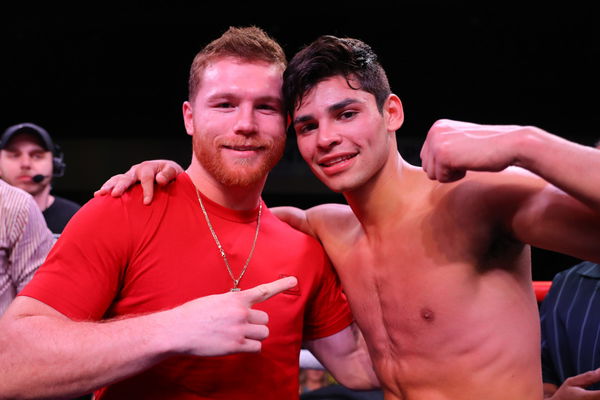 ---
---
Canelo Alvarez is now preparing to take on the IBF super-middleweight champion Caleb Plant on November 6. This fight is the final piece of the undisputed super-middleweight championship puzzle for both fighters.
ADVERTISEMENT
Article continues below this ad
Coming into this fight, there is a lot of bad blood between the two. This rivalry kicked off during the negotiation phase of this championship fight. With their latest scuffle at the press conference, things have become a tad bit personal.
During the face-off at the press conference, Canelo Alvarez pushed Caleb Plant after he said "motherf****r". The IBG champion shook it off, walked back up to his opponent, and swung a flat-handed left hook.
ADVERTISEMENT
Article continues below this ad
Within a split second, Canelo stuck a two-punch combination that caused a cut near Plant's eye. Later in the press conference, Alvarez once again stood up and threatened Plant as he called him a "motherf****r" a second time.
In a recent video, Alvarez's teammate, Ryan Garcia, explained why the Mexican champ initiated the brawl at the press conference.
"Canelo and Plant start fighting on the stage, it was nuts. Plant ended up calling Canelo a "motherf***r", and Canelo, as a Spanish speaker, interpreted it as "f*k your mother".
"So it didn't go well for Plant, he got cut up, and he got punched in the face a couple of times. I, of course, had to run in there, and all of our team there, you know, if it's going down with one of us, it's going down with all of us, we stay together," said Ryan Garcia.
Canelo Alvarez vs Caleb Plant – What to expect?
Canelo Alvarez is stepping into this fight with 56 wins, 2 draws, and a single career loss under his belt. On the other hand, Caleb Plant is undefeated with 21 straight wins with 12 knockouts. Canelo's WBC, WBO, WBA super middleweight belts, and Plant's IBF title will be on the line for this 12-round bout on November 6.
In his last fight against Caleb Truax in January, Caleb Plant showed a rather straightforward approach throughout the 12 rounds. He focussed on creating and maintaining distance with his jab at all times.
ADVERTISEMENT
Article continues below this ad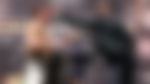 Truax was unable to cut into the pocket easily. Doubling down on this approach, Plant landed effective cross punches and even stuck sharp body shots.
Such an approach might not necessarily work effectively against Canelo Alvarez. The Mexican champ has smooth in-ring movement, knows how to close the distance, and has shown that he can fight effectively from inside the pocket. While Truax tried to close the distance by throwing straight shots, Canelo Alvarez uses his incredible head movement and distance through the gap.
ADVERTISEMENT
Article continues below this ad
Do you think Caleb Plant has what it takes to get past the P4P king?