Should Manny Pacquiao Retire After Fighting Yordenis Ugas?
Published 08/16/2021, 10:28 PM EDT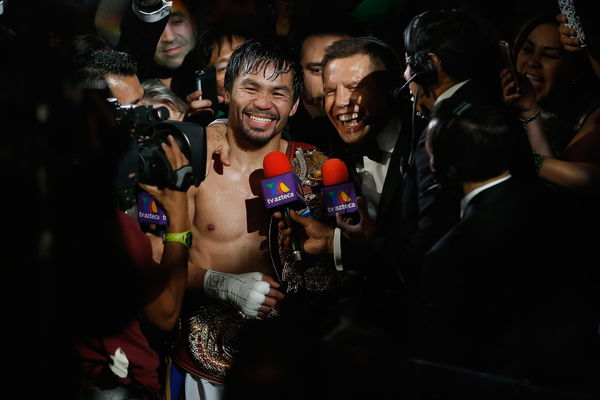 ---
---
After the recent collapse of the mega-matchup between Errol Spence Jr and Manny Pacquiao, the Filipino Senator will now face WBA (Super) welterweight champion, Yordenis Ugas on August 21. Even with a win over Ugas, Manny  Pacquiao will still have to wait for Spence to recover from his eye injury to possibly unify the division.
ADVERTISEMENT
Article continues below this ad
While the challenge might not seem as appealing as what Errol Spence Jr could have brought to the table, Ugas is still a very competitive and tough opponent. Much like Spence, even he has a height and reach advantage over the 42-year-old boxing legend.
ADVERTISEMENT
Article continues below this ad
Coach Freddie Roach believes Yordenis Ugas is one to always look for knockouts and that he is not "slick" with his approach. The Cuban (Super) WBA champion responded to Roach's comment by saying that he plans on out-boxing the Filipino pugilist.
"I think it ends up being about adjusting the strategy a little bit. I'm going to have to outbox him more than anything. That's the strategy that we're working on right now without obviously going into much detail," said Yordenis Ugas.
While this fight could go either way, the ask of the hour is – should Manny Pacquiao consider retirement after the Ugas fight? Here's a closer look into whether the Filipino senator should call it a day or not-
Experts have always wanted Manny Pacquiao to retire
Over the past decade, journalists and sports analysts have talked about and even lobbied for Manny Pacquiao's retirement. Bleacher Report released two different opinions highlighting different reasons why Manny Pacquiao should consider retirement from boxing.
A 2009 article stated or rather recommended "he must make his decision now before it's too late". It said that he must consider retirement to avoid unnecessary head trauma. The article added that he should enjoy the fruits of his labor over risking his legacy.
Similarly, another 2012 piece suggested five reasons why Manny Pacquiao should have retired right after his controversial loss against Timothy Bradley Jr that year. The 2012 article mentioned five distinct reasons – no scope for a fight with Floyd Mayweather, health concerns, corruption in the boxing community, increased focus on his political career, and the risk of disrupting his already cemented legacy.
Should Pacman finally hang up his gloves?
Despite critics and boxing journalists pushing his retirement agenda for years, Manny Pacquiao has never backed down. Instead, he put up the highest-grossing fight of all time by fighting Floyd Mayweather in 2015. Manny Pacquiao is also an active Senator in the Philipines. So far, he has been able to balance both worlds effectively.
ADVERTISEMENT
Article continues below this ad
Ahead of the Yordenis Ugas fight, Manny Pacquiao seems fitter than ever before and determined to grab a win. For now, he has his eyes set on dominating the Cuban pugilist. Moreover, he already has plans to face Spence in a few months. While his age will definitely factor in at some point, it does not look like that is something he is concerned about just yet.

New-age boxing fans are fortunate enough to still have a legend like Manny Pacquiao compete professionally against top contenders. Watching 'The People's Champ' fight in the ring is always a delight. It will be interesting to see if the 42-year-old can still compete at the same level of competence.
ADVERTISEMENT
Article continues below this ad
Do you agree with the opinion that a fighter's desire to win will always take precedence over factors such as age and previous losses?