16 Years After His Loss to Floyd Mayweather, Oscar De La Hoya Wishes to 'Move On' From the 'Bad Blood and Animosity'
Published 05/26/2023, 4:49 PM EDT

Follow Us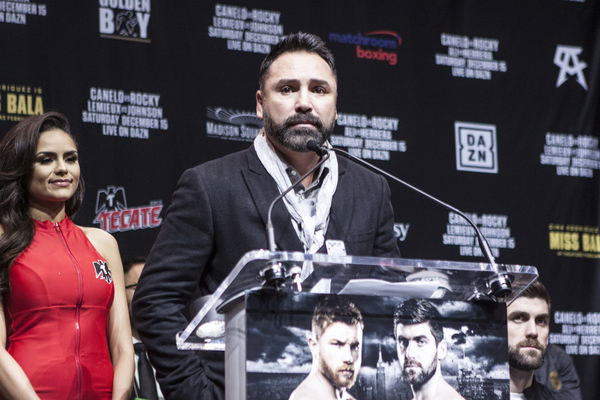 In 2007, Oscar De La Hoya was defeated by Floyd Mayweather via a split decision. Usually, in combat sports, foes tend to dish it out in the ring to settle their rivalry. However, the rivalry between De La Hoya and Mayweather was only brewing at the time. Their bout was a spectacle to witness and it was highly competitive. Though, a controversy transpired when Mayweather was declared the winner and many boxing pundits were in disagreement with the decision including De La Hoya.
De La Hoya felt that he had won the majority of the rounds and was the victor of the bout. The outcome of the bout left a sour taste in his mouth. For the longest time, De La Hoya did not have kind words for Mayweather and has been demanding a rematch ever since. However, in a recent turn of events, De La Hoya wants to "Move on" from the animosity and praised Mayweather for being a pioneer of the sport.
Oscar De La Hoya attempts to make amends with Floyd Mayweather
ADVERTISEMENT
Article continues below this ad
As the saying goes, "Time is the best healer," similarly, De La Hoya thinks that time has healed their animosity and it is a thing of the past. Although, he still does not concede to the fact that he got defeated. However, De La Hoya wants to move on from considering Mayweather as a foe to respecting him as a great athlete.
In an interview with Fight Hype, De La Hoya stated that he longer shares the same sentiments about Mayweather as he did in the past. He stated, "We fought each and there is this bad blood but that is in the past." 
However, the interviewer was curious to know whether his opinion on the outcome of the bout has also changed. To which he responded, "I definitely feel that I beat him but it's like all that bad blood and animosity. Let's just move on."
ADVERTISEMENT
Article continues below this ad
Thereafter, De La Hoya claims that at this point of time in his life, he wishes nothing but the best for the undefeated fighter and is grateful for his contribution to the sport.
ADVERTISEMENT
Article continues below this ad
Watch This Story: Devin Haney vs Vasyl Lomachenko stats
One may welcome the change in tone with regard to his animosity with Mayweather or find it questionable. How do you perceive the comments made by De La Hoya? In addition, do you think De La Hoya was the better boxer, the night he fought Mayweather? Share your thoughts with us in the comments.