"Smoothies, Beer, Kool-Aid…": Mike Tyson Recounts Things Fans Mercilessly Threw at Him
Published 08/24/2021, 5:31 PM EDT
---
---
Mike Tyson has lived a crazy life. Ever since he entered the professional boxing world, he climbed his way to the top by knocking out opponents of all sorts. This journey to the Mount Rushmore of boxing was not always smooth for 'The Baddest Man on the Planet'. He faced several challenges in life ranging from street fights to imprisonment to blowing away $400 million and filing for bankruptcy.
ADVERTISEMENT
Article continues below this ad
It was hard not to love the youngest heavyweight champion's boxing style and his exceptional finishes inside the ring. Most saw him as a young boxer who dared to go head-to-head with some of the greatest names in the heavyweight division and then walk out of the ring with clean knockouts. However, not all fans always sided with Tyson.
ADVERTISEMENT
Article continues below this ad
On a recent episode of the Hotboxin' podcast, Mike Tyson talked about how and what some fans threw at him as he walked out to the ring for his fights. He said that he never backed down from going after such fans and even threatened to fight them.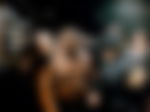 "They threw smoothies, beer, kool-aid, 7Up.
"I'm the kind of guy that fights the fans, sometimes I see the fans and say "boy I'm going to come and f**k you up motherf*****r", I get up and I say 'I'm coming' and they jet, "motherf*****r"," said Mike Tyson.
A fan attempted to punch Mike Tyson after the Roy Jones Jr fight
Roy Jones Jr. always wanted to fight Mike Tyson during his prime years. However, after finally facing him in November 2020, Jones Jr. described the youngest heavyweight champ's power as  "a horse kick to the head". However, one fan thought that it would be a good idea to attempt to throw a punch at the former undisputed heavyweight champ.
ADVERTISEMENT
Article continues below this ad
As he was signing autographs outside the Staples Center in Los Angeles after the fight, a man approached Mike Tyson and expressed that he wanted to fight him. The 55-year-old reportedly joked that it would not end well for him.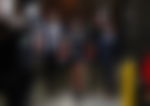 Right after he said this, the man tried to close in on Tyson to punch him. 'Iron' Mike's team stepped in as soon as he moved. However, the man managed to escape.
ADVERTISEMENT
Article continues below this ad
It is still unclear who the attacker was. However, the former heavyweight champion's team recognized the individual from previous similar incidents. While the police were contacted by bystanders about this attempted attack but both Tyson's team, as well as the attacker, had left once on the scene.