"Stop Chasing the Old Man"- Floyd Mayweather on Fighters Calling Out Manny Pacquiao
Published 05/12/2020, 9:30 AM EDT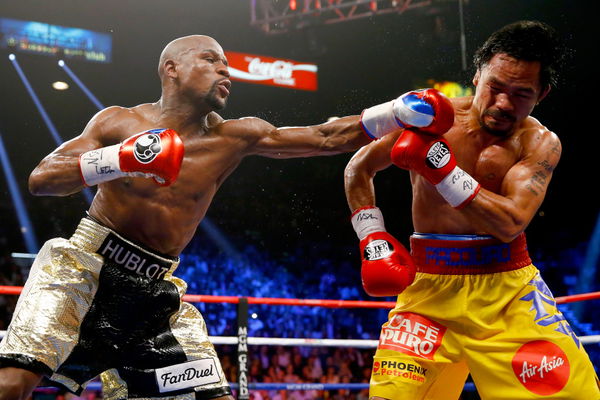 ---
---
Manny Pacquiao and Floyd Mayweather have not always had a great working relationship. They have been at each other's throats for quite some time. From virtual verbal jabs to talking about each other during interviews.
ADVERTISEMENT
Article continues below this ad
Money hung up his gloves for good back in 2017 and he feels that Pacquiao should follow suit, revealed Mayweather in an interview with Fighthype.com recently. Considering his age, Pacquiao cannot keep this up for too long, risking serious injuries or health issues if he does.
However, Mayweather adds that he is not going to be the one to come in Pacquiao's way. He feels Pacquiao has the right to keep fighting until he can. However, he feels that the time belongs to the younger fighters who need some space to rise and earn a name for themselves.
ADVERTISEMENT
Article continues below this ad
"That's his prerogative to do what he wanna do. I'm not going to go out there to perform and win titles and still put on a good show. But it's a time and a place. It's time for these other fighters to come up and shine. I had my time to shine," said Floyd Mayweather.
Money maintains that he has not left the sport completely. Mayweather claims that the sport that has given him so much will not be getting rid of him so easily.
ADVERTISEMENT
Article continues below this ad
Floyd Mayweather sends all young fighters a strong message
Mayweather claims that all the up and coming fighters of this generation are desperate to take on Manny Pacquiao. It seems like they want to prove their worth by taking on a fighter from the old guard. However, Money advises them to get rid of this idea and take on fighters on a level playing field.
"All the guys are like 'I wanna fight Manny Pacquiao,' but Manny Pacquiao is like 41 now? Don't chase him, these young fighters [should] chase each other. Stop chasing this old man. The opportunity presents itself, go out there and do what you gotta do," said Mayweather.
ADVERTISEMENT
Article continues below this ad
Floyd brushes off the comments that the young fighters make about him getting called out by Pacquiao. For he has nothing to prove to anybody, his impeccable record speaks for him. Never having lost a fight throughout his career, the future Hall of Famer is indifferent to what anyone else has to say. And rightly so.
Do you think Pacquiao should keep going at this age?