Teofimo Lopez Sr. Compares His Son's Purse Bid to Muhammad Ali's Vietnam War Situation: 'It's the Same Sh*t That We're Doing'
Published 03/30/2021, 5:00 PM EDT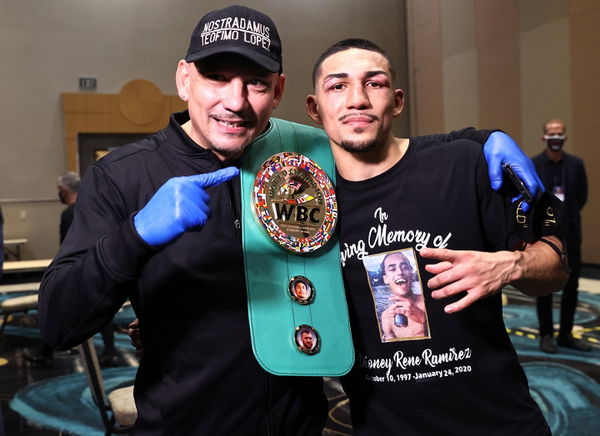 ---
---
Teofimo Lopez Sr., the father of lightweight champion, Teofimo Lopez, has made a bold claim about his son. The trainer of the current champion explained their decision to push for a purse bid and even compared it to boxing great Muhammad Ali.
ADVERTISEMENT
Article continues below this ad
Lopez will fight his WBO mandatory, George Kambosos Jr. However, the fight will not be a Top Rank event as the two parties could not agree on a deal. As a result, the WBO called a purse bid, and Triller won the bid. Lopez Sr. has now commented on this situation.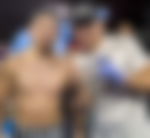 ADVERTISEMENT
Article continues below this ad
The trainer of the champion spoke to FightHype.com on YouTube and said, "We're showing these boxers that they're worth more than the promoters think that they're worth, you know. We took a stand for that, you know. And this is big man."
Thus, this comment showed why the two parties failed to agree on a deal. Clearly, the champion's camp felt they deserved more money. Lopez Sr. then compared their actions to Muhammad Ali.
"This is like the Muhammad Ali eras, you know what I'm saying? When Muhammad Ali stood for his rights, he didn't want to go fight in the war, it's the same sh*t that we're doing right now with my son," Said Lopez Sr.
READ: Can Ryan Garcia Defeat the Best at Lightweight?

Teofimo Lopez could start a new trend
Boxing is one of the most lucrative sports in the world. However, these comments from Lopez Sr. showed that despite the revenue the fighters bring in, they don't get their fair share. So could this pave the way for fighters to earn more money?
Muhammad Ali was a revolutionary in the sport in more than one way. Other than fighting for his rights and refusing to go to the Vietnam War, Ali was also the primary consideration when setting up the Muhammad Ali act. So can Lopez do something similar?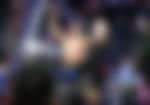 Unfortunately for Lopez, the only reason it worked this time was because he was fighting a mandatory. Usually, if two parties can not agree on a deal, the fight falls through, and they can move on. However, since it was a mandatory challenger, the WBO ordered a purse bid.
ADVERTISEMENT
Article continues below this ad
Furthermore, this was Triller's first purse bid, and they wanted to make a big statement. However, there is no guarantee they will bid similar amounts in the future. Thus, it will be difficult for Lopez to make this a trend for now.
What do you make of Teofimo Lopez Sr.'s comments? Do you think this was on par with Muhammad Ali's actions?
ADVERTISEMENT
Article continues below this ad