"That's a Problem"- Former Champion Predicts Manny Pacquiao to Punish Terence Crawford in an in-Ring Cash
Published 04/07/2021, 11:00 AM EDT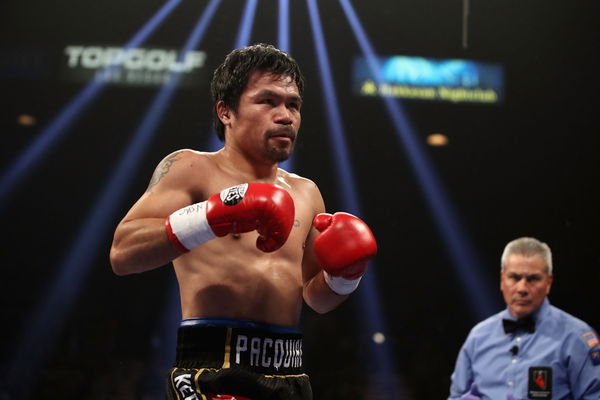 ---
---
Relying on his unbeaten run and activeness, WBO titleholder Terence Crawford can boast himself superior to Manny Pacquiao at this stage, especially when they are rumored to lock horns.
ADVERTISEMENT
Article continues below this ad
However, 'Pac-Man' will have his legitimate chances in dismantling 'Bud', and several boxers have backed the Filipino. That doesn't belittle Terence Crawford's chances in the fight, but Pacquiao's experience and skill can cause some serious trouble to which Crawford might not have a response.
Meanwhile, two-division world champion Trim Bradley has also shed his opinion on the fight, citing how Pacquiao can relish some serious advantages in the clash. Bradley claimed he has sparred with both Pacquiao and Crawford, validating his preview of the potential welterweight thriller.
ADVERTISEMENT
Article continues below this ad
Speaking with ESPN, he said, "I've been 36 rounds with Pacquiao, and I have been over 100 rounds with Terence Crawford. It was early in Terence's career. I understand he's gotten a lot better to where he was when I was sparring, but his tendencies are still the same."
Bradley added, "Manny Pacquiao, he loves, and I'm going to go ahead and spill it right now. I'm going to let you guys know. Manny Pacquiao loves when guys pull back, and that's a problem." (H/T: Boxing News 24)
Well, that's not all. Bradley has also pointed out some more flaws in Crawford's game, but he hasn't ruled out the current WBO champion's chances in the fight. Billing it as a close-call, Bradley slightly favored the former octuple world champion.
Terence Crawford vs Manny Pacquiao- An Absolute welterweight treat
37-0 as a pro, Crawford has appeared perfect in his pro-career, and none of his adversaries have seriously troubled him. Although he has been pushed to the corner several times, 'Bud' has always regained his momentum to depart with the win. But if he faces Pacquiao, it can turn the tables on him, and Bradley has just mentioned the same in his preview of the fight.
ADVERTISEMENT
Article continues below this ad
The former champion said, "You also know that Terence 'Bud' Crawford gets hit early, and he gets hit often early. Manny Pacquiao is a quick starter as well and he still has that blazing backhand that he has that showed a massive amount of punching power."
Amid so much analysis and talks, the welterweight matchup is still not a done deal. Both sides have expressed their desire in staging it, but the promoters need to look after the contractual turmoils and bring both the boxers under terms.
ADVERTISEMENT
Article continues below this ad
If booked, do you think Manny Pacquiao vs Terence Crawford will be the biggest welterweight fight of the time?