"That's My Big Brother Man"- Adrien Broner Opens Up on His Feud With Floyd Mayweather
Published 02/02/2021, 1:00 PM EST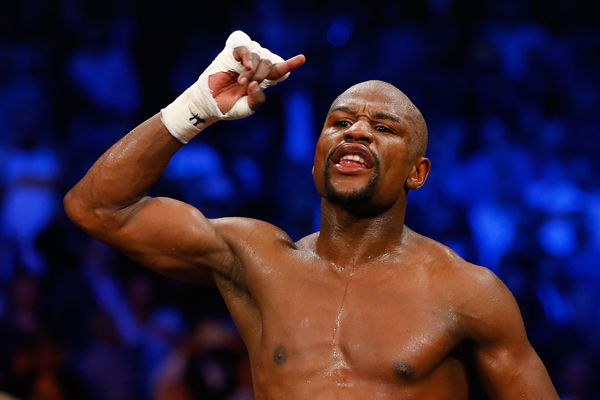 Adrien Broner and Floyd Mayweather have reportedly shared a heated relationship in the past. However, the pugilists may have blown past this bad blood as they may end up participating in an exhibition against each other.
'The Problem' Broner recently took to social media and requested an exhibition clash with Floyd Mayweather, whom he calls his 'big bro'. Although Mayweather hasn't responded yet, Broner has already predicted to make around $30- $50 million from the fight.
That said, he opened up on his relationship with Mayweather in interaction with Brian Custer. Adrien Broner clarified that he always had love for the unbeaten 5-division champion.
ADVERTISEMENT
Article continues below this ad
"I never had beef with Floyd man anytime. That's my big brother man. Anytime I see him, man, there's always love. I mean we have our disagreements you know that might come out to the media and they flip it one way or the other but respectfully you know I learned a lot from him and I got love for Floyd," said Broner.
But things were slightly different around two years ago, considering how Mayweather had tagged Broner as an "alcoholic". It is no surprise that Broner didn't take it lightly and hit back at 'Money May'. In an interview from the past, Broner mocked Mayweather and hesitated to call him his big brother.
When asked about Floyd Mayweather, Broner replied, "Who? S*** I got no big brother. My big brother's last name is Broner. They only love me when the cameras are around m*****f****."
What's next for Adrien Broner and Floyd Mayweather?
According to BoxRec, Broner is no longer an active pugilist. His last fight took place against Manny Pacquiao in 2019, where 'Pac-Man' vanquished him. So, an exhibition clash against Mayweather might be a great opportunity for him.
Meanwhile, Floyd Mayweather is still relevant in the sport despite being inactive. Following his last fight against Conor McGregor in 2017, Mayweather fought Tensin Nasukawa in the same year. He will now fight Logan Paul in a special exhibition clash.
ADVERTISEMENT
Article continues below this ad
So, another exhibition against Broner can also be an option for Mayweather. He has vowed to appear in such fights in the future, and fans can expect it to happen.
ADVERTISEMENT
Article continues below this ad
Do you think Adrien Broner can beat Floyd Mayweather in an exhibition?