'The Baddest Man on the Planet' Mike Tyson Poetically Describes Life as "A Beautiful Process of Dying"
Published 05/11/2022, 1:38 AM EDT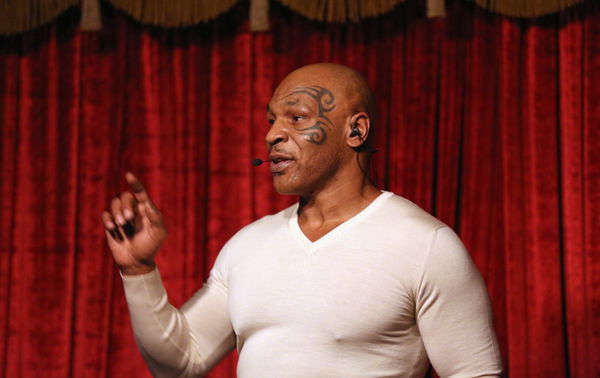 'Iron' Mike Tyson has been through many phases in his life and has had different experiences because of which he has a unique perception of everything. He shares some of his thoughts on his podcast and similarly, he narrated his view on life in an exceptional way.
ADVERTISEMENT
Article continues below this ad
In a recent episode of Club Random Podcast, Bill Maher and Tyson discussed some different perspectives on the path of life. 
ADVERTISEMENT
Article continues below this ad
Tyson gave a surreal statement regarding this topic. He said, "Now we're being serious now. So life is just um, look at it, do anything, but it's just a beautiful process of dying."
This unique perception of life from 'Iron' Mike overwhelmed Maher and made him think of it in a deeper sense. 'Kid Dynamite' has grabbed the attention of many people by his distinctive statements, which have also motivated them in the past. 
Motivational Mike Tyson
'Iron' Mike had a great struggle in the initial days of his career. He rose from poverty and worked hard to become the youngest world champion of the heavyweight division when he was just 20.
He had a successful professional boxing career and beat many prominent boxers. The manner in which he attained those wins positioned him as a motivational factor for many young boxers. 
Apart from his career highlights, Mike Tyson has motivated the people through his words. There are several famous quotes by him which are remembered by a lot of boxing fans.
One of his famous quotes is, "Everybody you fight is not your enemy. And everybody who helps you is not your friend"
ADVERTISEMENT
Article continues below this ad
Well, Kid Dynamite has enlightened everyone with some amazing words in his recent podcast as he did in the past. He has had a great influence on his fans, which is why they are always eager to hear his views. 
Do you know any other moment when 'Iron' Mike Tyson portrayed his unique self? Let us know your views in the comments below. 
ADVERTISEMENT
Article continues below this ad
Watch This Story: Five insane facts about Mike Tyson