The Real Reason Why Mike Tyson Did Not Support Deontay Wilder Against Tyson Fury
Published 01/11/2021, 4:53 AM EST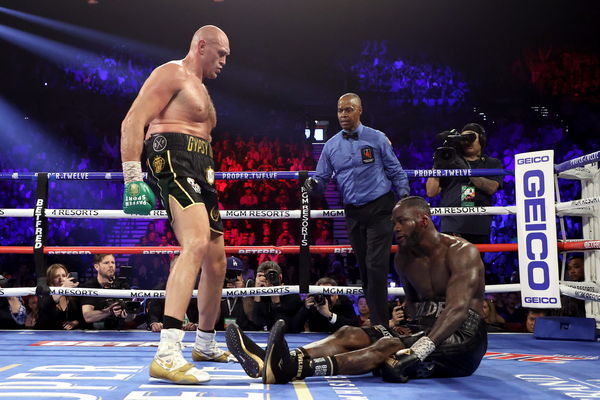 ---
---
Deontay Wilder and Tyson Fury split the entire boxing world into two halves when they fought each other for the WBC title back in 2018 with a rematch in 2020. Other than the heavyweight rivalry, it also featured geographical feud as most of the Americans supported Wilder and the Brits backed up Fury.
ADVERTISEMENT
Article continues below this ad
However, Mike Tyson didn't support his fellow countryman Deontay Wilder. Instead, he preferred Tyson Fury to win the fight. His wish came true as Fury knocked out Wilder in the rematch, following a controversial draw in the original fight. But Mike Tyson's support for Fury raised several eyebrows.
Being a treacherous KO puncher of his time, 'Iron' Mike and Wilder have a lot in common. Their ability to floor their opponents also brings them on the same scale. But for taking sides,  Mike Tyson would likely be on Fury's corner.
ADVERTISEMENT
Article continues below this ad
There are several reasons for that and Mike Tyson revealed these to The Sun,
Speaking on it, Mike Tyson said, "In the first fight I was hoping for Tyson Fury, I always pulled for him because he was named after me, that is the natural thing to do, right? I was always biased toward him. He is very likeable, he is a nice person."
Mike Tyson labeled Tyson Fury as a fairy tale
According to 'Iron' Mike, Tyson Fury never looked like he will overcome his opponents. However, Tyson hailed him for doing so. Furthermore, the 54-year-old recalled how Fury got back on his feet after being knocked down by Deontay Wilder. It was an iconic moment in the fight which turned out to be inspiring for several fans. That said, Mike Tyson also noted it.
Tyson said,  "I didn't know if they were washed up or throwing the fights because Tyson did not look like he should be beating them."
He added, "But he was and he was laughing at them, that made me a fan. He is so much better than what he appears to be and looks like. It was almost like a fairy-tale how he went down against Wilder and got back into it, it looked like he was finished. It looked like a screenplay."
Meanwhile, Mike Tyson also believes that Wilder can come up stronger from this phase. While the trilogy fight with Fury is still relevant, Mike Tyson advised Wilder to change his attitude towards the feud. As per Metro, Tyson shed his opinion to Fat Joe on Instagram and morally boosted up Wilder to get ready for the third fight.
ADVERTISEMENT
Article continues below this ad
Tyson said, "He (Wilder) is feeling like he's given up, "Oh my life is over. I made £72million so far but my life is over, oh lord, oh God, I wanna die". 'Grow up man, let's just keep going through this until it's really over."
ADVERTISEMENT
Article continues below this ad
What did you make of 'The Baddest Man On The Planet's' reasoning behind him lending his support to 'The Gypsy King'?