"These Boys They Are Done"- Eddie Hearn Bills Himself Superior to Don King, Bob Arum, and Frank Warren
Published 04/11/2021, 6:30 AM EDT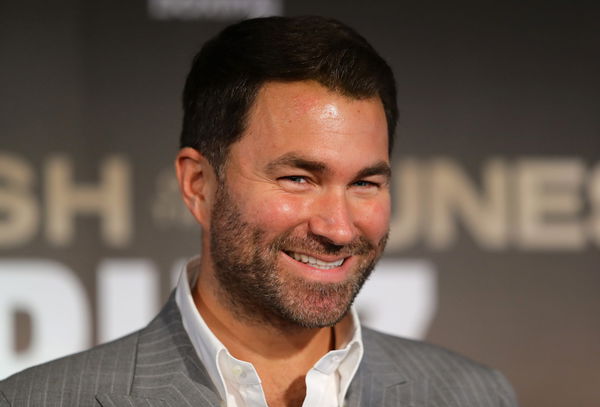 ---
---
Matchroom Kingpin Eddie Hearn is undoubtedly one of the finest promoters of all time in boxing. Although many can rightfully challenge his stature, the Brit claims that he is superior to all the promoters of the by-gone days.
ADVERTISEMENT
Article continues below this ad
That said, boxing still has several veteran administrators in Bob Arum, Frank Warren, and more. So, Eddie Hearn respects each of those individuals, but he believes to have done enough to claim the top spot.
Hearn connected with IFL TV to address several ongoing issues. Meanwhile, he also shared his opinion on the greatest promoters of boxing, billing himself as the best.
ADVERTISEMENT
Article continues below this ad
"I don't always really agree with the way Don King does business, but he was a very good promoter. If there is a show in town, you knew there is a show in town. Bob Arum has lasted, you know the test of time, I mean he is still going. Spoke several times in the last few days, unbelievable energy. You know my old man, Hall of Famer Frankie Warren," said Eddie Hearn.
He added, "But these boys, they are done. I mean this is kinda like you know, they have had their time, worlds changed and it's not really the same anymore."
Nevertheless, not many people might agree with Eddie Hearn. Despite putting Matchroom Promotions into the broader spectrum, Hearn still has competition left in the market.
Is Eddie Hearn really the greatest promoter of the time?
A few weeks back, Hearn vowed to introduce a UFC-based model in boxing and appeared optimistic about monopolizing the sport. However, Oscar De La Hoya reacted to the statement and didn't seem to like the idea.
The former champion pugilist ridiculed Hearn, and it appeared to be a healthy competition between two prime promoters of this era. But it seemingly turned ugly when Hearn responded with fire.
ADVERTISEMENT
Article continues below this ad
Responding to De La Hoya, Eddie Hearn replied in the AK& Barak show, "It's a good thing Oscar De La Hoya is using my name to build his profile. I respect Oscar. He's doing his thing, and I'm doing mine. It's nothing personal when I say I want to monopolize boxing. It's just competition. I don't look at Golden Boy as a competitor for what we're doing on a global level." (H/T:- World Boxing News)
It seems that Hearn is adamant about being at the top. And with his sheer smartness onboard, it might not be a hard task to achieve. But will he be successful in monopolizing the business in the sport?
ADVERTISEMENT
Article continues below this ad