'They Have the Most Rude Workers I've Ever Dealt With in My Life': Claressa Shields Reacts to Viral Brawl Between Ex-NFL Player and United Airlines Worker
Published 05/24/2022, 1:45 PM EDT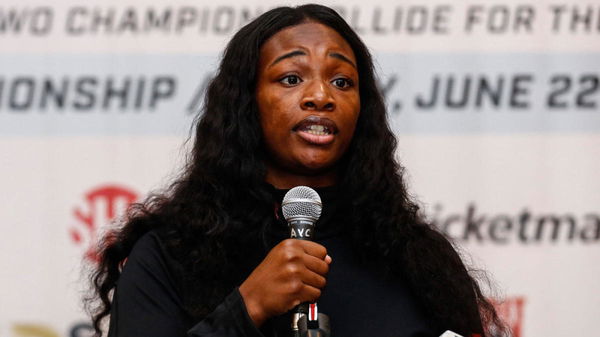 The self-proclaimed 'Gwoat' Claressa Shields came in support of ex-NFL player Brendan Langley after his video of the fight went viral on social media platforms.
She took to Twitter and targeted the behavior of United Airlines. She claimed it on the basis of her own experience with workers of airlines. Shields wrote, "Fly @Delta! I tried united and they have the most rude workers I've ever dealt with in my life smh."
ADVERTISEMENT
Article continues below this ad
Recently, a video clip of former Denver Broncos cornerback Brendan Langley surfaced on the social media platform. It caught the attention, as it clearly displayed a worrisome physical altercation between Langley and Brendan at Newark Liberty International Airport.
In the clip, Langley appeared in a black hoody and blue jeans. The video captured showed that during the verbal exchange, the employee of the airline slapped Langley's right chin. This infuriated the latter, and he unloaded two blows on the face of the worker. The connection was lethal it sent the employee to the floor behind the counter.
The punches were hard, and they wounded the employee, leaving him with a bloodied forehead. However, it did not stop the employee. He managed to get up and go back to Langley.
Meanwhile, Langley shouted at him, saying, "You want some more?"
Before this altercation turned brutal, the intervention of other employees of the Airline stopped it.
After the incident, the airline shared a statement. They said, "United Airlines does not tolerate violence of any kind at our airports or onboard our planes and we are working with local authorities to further investigate this matter."
According to TMZ, the airline took immediate action and fired the employee. Later, Langley also faced the repercussions of engaging in violence. He was arrested and charged with a simple assault.
What led to this infamous exchange?
ADVERTISEMENT
Article continues below this ad
The captured video only displayed slapping and punching between the two. However, according to the reports, the duo initially engaged in an argument over luggage.
The ex-NFL player wanted to transport the luggage in a wheelchair instead of transporting it by a luggage cart that cost$5. This became an apple of discord and they reached into a physical altercation.
This infamous incident drew the attention of Claressa Shields.
ADVERTISEMENT
Article continues below this ad
Watch This Story: These 5 Boxers Lost Over $4 Million in Fines
What do you think about Claressa Shields' reaction? Let us know in the comments below.
Edited By: Vibhanshu Kumar