"They Offered Me $1.5 Million But I Hung Up On Them"- Floyd Mayweather's Team Reveals Bizarre Offer By Conor McGregor
Published 06/19/2020, 9:14 AM EDT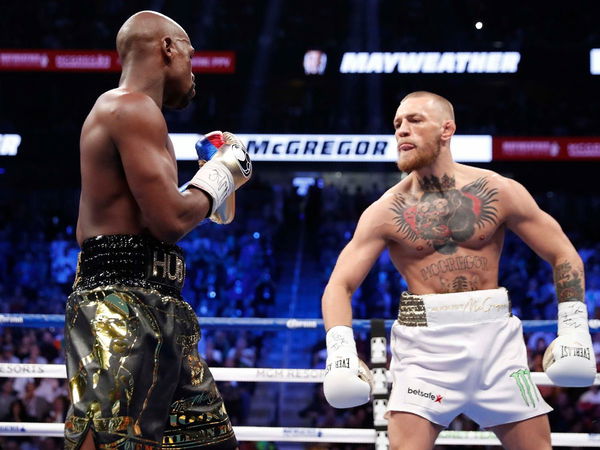 ---
---
Nate Jones, who is a part of Floyd Mayweather's entourage has made an interesting claim about the boxing match between Mayweather and McGregor. Jones said that McGregor's team offered him large sums of money to switch corners back in 2017. The fight was one of the greatest spectacles, combat sports has ever witnessed. The boxing match brought together, two of the biggest names in the combat sports world, and broke all sorts of PPV records.
ADVERTISEMENT
Article continues below this ad
This was Conor McGregor's first pro-boxing fight, and despite his loss, he did not disappoint. Mayweather secured the victory In round 10 via TKO. Jones who serves as a member of 'TMT' revealed he was offered $1.5 million. He immediately hung up the phone, when he received news of the offer.
ADVERTISEMENT
Article continues below this ad
READ : "He's a Piece of Trash" – Floyd Mayweather Sr. Belittles Deontay Wilder
"I hung up on them"- Nate Jones
"Floyd don't know this but I got a call from Conor McGregor's people to work his corner for that fight – and I hung up on them. They offered me $1.5 million but I hung up on them. I got a call from Montell Griffin and he said, 'people want to holler at you Nate, they're McGregor's people.' And they called and I'm like, 'what's up?' They was like, 'man, he interested in you being in the corner. We'll pay you $1.5 million – whatever you want, mention what you want.' And I hung up" said Jones during Rocky Road: Rewind
ADVERTISEMENT
Article continues below this ad
Conor McGregor appeared to extremely confident during the build-up to the fight. However, Jones pointed out that McGregor was a nervous wreck right before the fight and couldn't contain his emotions.
"In the locker room getting ready to fight, he was very shook. He went to the washing room six times. Six times. I was like, 'what is wrong with this dude?' He was very shook for that fight. Going into the fight, I was worried about him not being a boxer, I was worried about the unknown. And he brought to the table his size. I was worried about that but we handled him well, we chopped him down and stopped him." Said Jones
Floyd Mayweather's last professional bout was against McGregor. He since started coaching and has even teased a possible rematch against the Notorious recently.
ADVERTISEMENT
Article continues below this ad