"This Is Sounding Pretty Desperate." Boxing World Erupts After Floyd Mayweather Announces an Exhibition Tour for 2023
Published 03/09/2023, 7:15 AM EST

Follow Us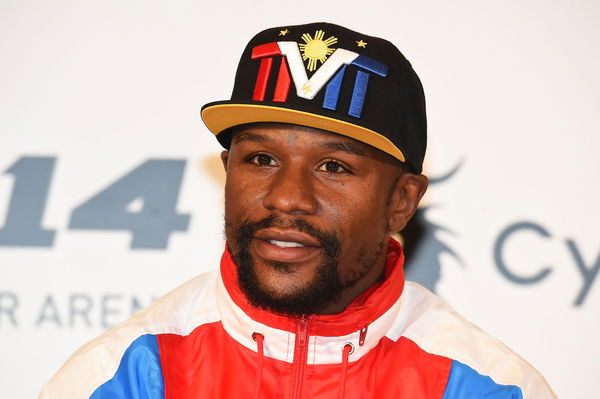 Floyd Mayeather Jr is one of the most accomplished boxers in the sport. Additionally, to retire with a prestigious undefeated record is a feat that is hard to achieve, but Mayweather did it. Even though he retired from his professional career after his bout against Conor McGregor in 2017, he has actively participated in numerous exhibition bouts. Mayweather Jr did not let retirement come between him and his love for the sport. It is safe to say that, A boxer can leave boxing, but the art of boxing never leaves the boxer.
Recently, Mayweather Jr announced his plans for 2023. The former champ will be keeping himself busy with exhibition bouts this year. The former five-division champ announced an exhibition tour covering five countries by the end of the year.
Mayweather Jr's exhibition tour
ADVERTISEMENT
Article continues below this ad
The 46-year-old recently fought Geordie shore star Aaron Chalmers at an exhibition bout held at the O2 arena in London. Moreover, the former champ can't wait to get inside the ring again.' Money' Mayweather took to Instagram to make a big announcement about his plans for the rest of the year.
Additionally, The former champ shared a video on his Instagram, revealing the countries he will visit for his exhibition bouts. The champ will be seen in an exhibition bout in Germany, Japan, South Korea, Australia, and America in Miami. He will fight a total of six times this year. Nevertheless, Mayweather Jr is one of the most active boxers in the sport, and this tour echoes the fact that he is ready to hustle more and stay involved with the sport as much as he can. No opponents have been announced for his fights yet. While he was in London, the former champ had a wholesome moment with his fans.
 

View this post on Instagram

 
The video's caption read, "This is what my 2023 looks like so far…5 exhibitions in 5 countries in 9 months, and if any of these exhibitions don't happen, I still get paid. I'm the most active hustler in boxing; my money is guaranteed. " Mayweather Jr seems adamant about getting paid for these fights already. The fans are not all on board with Mayweather Jr on this announcement.
Fans react to the announcement
Perry took jabs at Mayweather Jr and said he couldn't even fill out the arena for his last fight against Chalmers.
At some point just go back to pro bouts with rookie opponents or just leave it. One of if not the goat of boxing but he couldn't even sell out his exhibition fight in London at the o2, even held back the main event for an hour to try get more tickets sold. People are not into it.

— Perry (@itspels) March 8, 2023
Syn1h believes these bouts ruin Mayweather's reputation as a professional boxer.
At first I was like yea fair enough he is making money for himself, but at what point will he realize how embarrassing it is, kinda ruins his reputation imo. There's barley anyone watching these fights, I don't think I've heard anything about his last exhibition like zero hype

— Syn1h_ 🇵🇸 (@MajdShb) March 8, 2023
Lomo's Adjutant thinks that Mayeather's claimed figures are unbelievable, and he is getting desperate.
I don't believe he's getting paid the figures he's claiming. This is sounding pretty desperate.

— Lomo's Adjutant (@kay_sesen) March 8, 2023
Gus is excited to watch Mayweather Jr clash inside the ring.
ADVERTISEMENT
Article continues below this ad
Charlie took some shots at Mayweather Jr.
*most active hustler in boxing that nobody cares to watch anymore*

— charlie (@dadeeds2003) March 8, 2023
ADVERTISEMENT
Article continues below this ad
What are your thoughts on Mayeather's exhibition tour? Is this something he should be credited for, or is he just desperate? Let us know your thoughts in the comments.
Watch This Story: Top 5 Best Selling PPV of Floyd Mayweather's Boxing Career