"This Is the Last Ditch-Effort From Floyd" – Former Heavyweight Champion Speculates Floyd Mayweather Wants Gervonta Davis To Lose Amid Contract Dispute
Published 05/12/2022, 1:00 PM EDT
The anticipated fight between Gervonta 'Tank' Davis and Rolly Romero is creating a huge build-up before the fight. Fans and personalities from the boxing industry are expressing their views about this.
ADVERTISEMENT
Article continues below this ad
Hasim Rahman, the former heavyweight champion, was asked about the Davis versus Romero fight in a recent interview with FightHype.com. "I actually think that Tank might have the edge in power and speed and boxing actually," Rahman added.
ADVERTISEMENT
Article continues below this ad
WATCH THIS STORY: Forbes Top 10 Richest Athletes List 2022: LeBron James, and Stephen Curry Make Headlines Yet Again With 7 figure Money Bags
I think this is the last ditch effort from Floyd to try to, you know, see if he can get Tank knocked off by one of his own. You know, because if you get him knocked up by somebody else, it's really not going to mean nothing to him. So he waited till the last fight… You know like, what we got to lose. Nobody expect him to win…"
Gervonta Tank Davis vs Rolly Romero
This fight between the two rising stars has some fine details as well that add up to the excitement of the match. Davis has only one fight left under his contract with Mayweather Promotions. Both Romero and Davis are from the same promotional firm, so it has created more interest in the audience. 
ADVERTISEMENT
Article continues below this ad
Hasim Rahman had his own perceptions about this. He said, "What would he get out of getting beat by Eddie Hearn's fighter, or Bob Arum's fighter. The genius in Floyd is you get him in there, when he got a guy who has a puncher's chance, right. Now Floyd got the guy, right. And if he don't win, he's still got a relationship with Tank. But believe me, he won't roll anywhere, no doubt about it."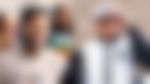 ADVERTISEMENT
Article continues below this ad
Both combatants have an incredible record because they are unbeaten. Tank Davis, boxing's new heartthrob, has a 26-0-0 record. Romero, on the other side, goes with a 14-0-0. It might be Davis' last fight with Mayweather Promotions, the reason might be the feud between Davis and Floyd Mayweather Jr. The firm will lose one of its biggest moneymakers when the 27-year-old prodigy's contract expires. Romero is thought to be a possible Davis replacement by fans.
What are your thoughts on Hasim Rahman's comment about the forthcoming match? Leave your thoughts in the comments section below.