THROWBACK: Vasyl Lomachenko and TJ Dillashaw Trade Shots Inside The Boxing Ring
Published 07/20/2021, 12:14 PM EDT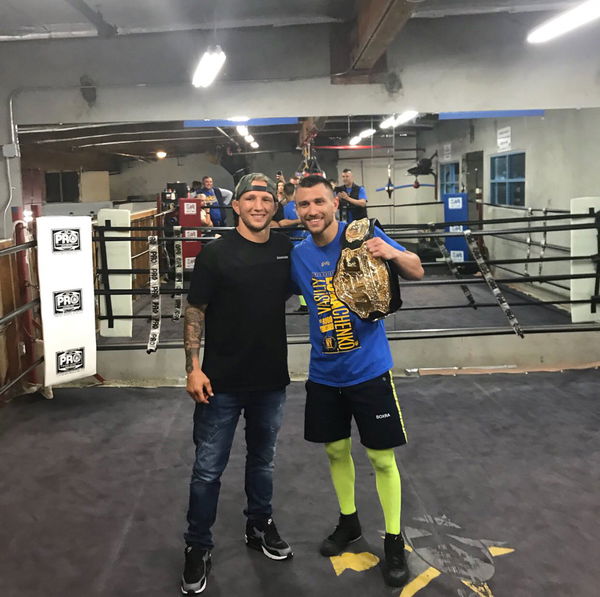 ---
---
2017 was a year of cross-overs in combat sports. Floyd 'Money' Mayweather tested Conor McGregor's notoriety inside the boxing ring. The mega-clash between the top-tier athletes broke records and sold 4.3 million pay-per-views. While 'Pretty Boy' and the Irishman clashed for 10 rounds, there was another fight just off the coast in California between two big names in mixed martial arts and boxing – Vasyl Lomachenko and TJ Dillashaw.
ADVERTISEMENT
Article continues below this ad
WATCH THIS STORY: Top 5 Worst Eye Injuries in the History of Boxing
ADVERTISEMENT
Article continues below this ad
Mixed martial artist TJ Dillashaw (17-4-0) and boxer Vasyl Lomachenko (15-2-0) sparred for four 4-minute rounds inside the World Boxing Gymnasium. In 2017, Dillashaw was a two-time UFC bantamweight champion and two-time Olympic gold medalist Lomachenko was the junior lightweight titleholder in boxing. The fighters did not walk into the ring intending to put up a spectacle for the fans or generate massive pay-per-view numbers. Both cross-domain athletes agreed to spar because they felt it would be a fun experience.
Dillashaw vs Lomachenko- Sparring session preview
Vasyl Lomachenko had the obvious advantage over his sparring partner inside the boxing ring. The boxing champ dominated the session and secured a landslide win. However, Dillashaw knew the outcome even before entering the ring. The UFC champ used this sparring session with one of the best boxers in the world as a learning experience.
"I need to learn what's up. I'm always trying to expand my knowledge as a mixed martial artist. I'm such a big fan [of Vasyl Lomachenko], I wouldn't pass this opportunity up. Even if I get obliterated, it's something I'll remember forever," said TJ Dillashaw, before stepping into the boxing ring.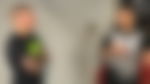 Dillashaw started off strong in the first two rounds. He landed few effective shots in the first round and also pulled off skillful combinations against the champion of the ring. Midway through the first round, Dillashaw landed an overhand left on Loma's head and slipped to the left and then landed big left hooks to his chin. With no fight set for him for the next few months, Dillashaw seemed fatigued by the end of round 1.
"I don't like, he punch my head a couple times. When we start sparring, I started a little bit relaxed, little bit not serious. Then he punch a couple times in my head, I think, 'Oh, OK. Let's go," said the boxer from Ukraine.
Would Loma ever enter the octagon?
Lomachenko is a dangerous force inside the boxing ring. However, the Ukrainian has shown a clear inclination towards the mixed martial arts as well. Back in 2019, a clip of Vasyl Lomachenko showcasing incredible straight leg kicks went viral on Instagram and it even caught the attention of major UFC stars like Yair Rodríguez, Max Holloway, Islam Makhachev, and Jon Jones.
ADVERTISEMENT
Article continues below this ad
However, the Ukraine native is not just great with his kicks. He recently shared a little-known fact that before initiating his boxing career, Loma was heavily involved in martial arts. He shared in an interview that before entering the ring, Loma used to train in sambo, wrestling, and judo. His grappling coaches even wanted him to compete professionally, but he later discovered his love for boxing.
Fighters crossing over to adjacent domains is interesting for fans of all forms of combat sports. Even with influencer-turned-boxers like Logan Paul and Jake Paul now taking center stage in the sport, some boxing purists have argued that such moves degrade the sweet science of the sport. However, such transitions and cross-overs indubitably bring fresh eyes to the ring. Such changes can only further elevate the sport to higher levels.
What do you think about crossovers in combat sports?
ADVERTISEMENT
Article continues below this ad
Trending Stories