Tommy Fury And Daniel Dubois Added to Jake Paul vs. Tyron Woodley Undercard
Published 08/02/2021, 1:17 AM EDT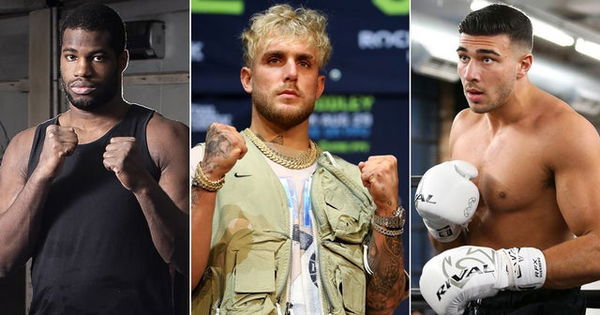 ---
---
Jake Paul has built a name for himself in the boxing community in a short span of time. The 24-year-old wants to grow further in the sport by challenging tougher opponents along the way. In pursuit of success in the boxing world, 'The Problem Child' is now going to fight five-time former UFC champion Tyron Woodley on August 30.
ADVERTISEMENT
Article continues below this ad
Given his opponent's background and form, this could be his toughest challenge yet. This is an exciting event for fans of the sport because this is a make-or-break fight for both fighters.
ADVERTISEMENT
Article continues below this ad
The card that is already featuring huge names in the sport like Jake Paul, Tyron Woodley, and Amanda Serrano has now become even bigger. An exclusive report revealed that Tommy Fury and Daniel Dubois will make their US debut on the undercard of the same event.
With Tyson Fury's brother and the interim WBA heavyweight champion fighting under the Paul-Woodley umbrella, this event has already garnered a lot of attention.
22-year-old Tommy Fury is reportedly scheduled to face an American fighter with MMA and boxing experience. Whereas, the 23-year-old interim WBA heavyweight champ is expected to face Trevor Bryan, the WBA regular world heavyweight champion. Showtime could announce official matchups for the two British contenders within the week.
Could this be a build-up to Jake Paul vs Tommy Fury?
A few months back, Tyson Fury called out Jake Paul after the Ben Askren fight. He asked him to fight his cousin brother Tommy Fury, who now has six wins and no losses on his record. The 22-year old has taken shots at the YouTube star on social media for not responding to his callout. Ever since then, they have engaged in regular back and forth. Jake Paul even talked about fighting Tommy Fury on a recent podcast.
"Yeah, I want to fight Tommy Fury, a hundred percent. He is seriously only famous because he's put my name in his mouth and that's the truth of the matter. The only time he gets press is when he talks about me. He's fought bums, he is 5-0, but he's fought guys that have a combined record of 10 wins and 250 losses. 
"He has never done a big pay-per-view, he is a reality star, so he needs to fight someone real to do a big pay-per-view," said Jake Paul.
ADVERTISEMENT
Article continues below this ad
Paul had responded to his initial call-out by shutting down the 22-year-old. He said that he would consider him if he can face an actual winning professional and do a pay-per-view event. Fury crossed off Paul's first requirement by facing Jordon Grant, who had 3 wins and no losses before the fight. By fighting on August 30th, Fury can now also tick off his second requirement.
Tommy Fury has now signed a two-fight deal with US broadcaster Showtime, which also has Jake Paul under its wing. Both Fury and Paul being on the same card is most likely not a coincidence. Per reports, the ultimate objective is to book a Jake Paul-Tommy Fury fight.
ADVERTISEMENT
Article continues below this ad
Do you think Tommy Fury is a good way for Jake Paul to transition into fighting professional boxers?