Tommy Fury Remains Undefeated, Calls Out Jake Paul After Leaving Opponent Daniel Bocianski With a Bloody Face
Published 04/23/2022, 3:01 PM EDT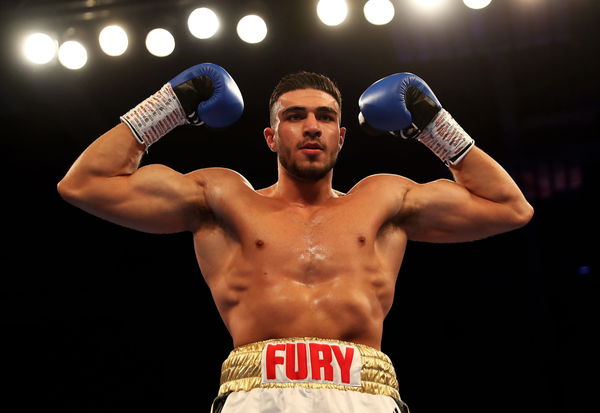 British light heavyweight contender Tommy Fury made a long anticipated return to the ring, facing Polish boxer Daniel Bocianski, as his brother Tyson Fury's undercard.
ADVERTISEMENT
Article continues below this ad
The bout was a spectacular display of the pugilistic prowess of both the fighters.
ADVERTISEMENT
Article continues below this ad
Fury, who was 7-0-0 coming into the bout, returned to the ring after an 8 month long hiatus. He was last seen in the ring in August 2021, where he defeated Anthony Taylor via a unanimous decision.
Meanwhile, Bocianski, who was 10-1-0 coming into the bout, came in as the more experienced fighter of the two. However, his last fight resulted in a loss against Patryk Szymanski via TKO.
Moreover, there are also talks that this fight might pave the way for Fury's long awaited showdown against Jake Paul.
A lot of fans waited with bated breath for the main event. However, an equal amount of anticipation was present for this star-studded undercard.
Tommy Fury dominates Daniel Bocianski
The bout started strong, with Fury truly feeling the obvious height difference between him and Bocianski. However, Fury was able to get in multiple powerful jabs. Bocianski also showed equal competence.
However, the second round saw a dramatic turn in favor of Fury. He pummeled Bocianski with multiple merciless barrages. A special mentioned should be made to the powerful right hook that almost made Bocianski unsteady on his feet. Bocianski struggled to find accuracy in his punches.
The next two rounds saw a demonstration of Fury's technical prowess. Bocianski was able to land a jab, which made Fury move more cautiously. Fury hit Bocianski on the left eye with a perfect 1-2 combination, causing a noticeable injury.
Fatigue seemed to be setting on both the fighters by the fifth round. Bocianski was also bleeding profusely from his left eye. However, Fury was able to score his first knockdown in the 5th round. But, Bocianski was saved by the bell.
ADVERTISEMENT
Article continues below this ad
Moreover, Bocianski proved to be a worthy and sturdy opponent by bearing the brutal barrages through the six rounds. The judges scored the bout 60-54, making Fury the winner by unanimous decision.
Moreover, after the bout, Fury wasted no time in calling out Jake Paul for a fight in his post-fight interview.
ADVERTISEMENT
Article continues below this ad
WATCH THIS STORY: Tyson Fury, Kamaru Usman, Dana White And Others React To Mike Tyson Battering A Drunk Fan On A Flight
What do you think of Tommy Fury's victory? Do you think Fury will face Jake Paul next? Let us know in the comments below.