Triller's Ryan Kavanaugh Unfazed by Floyd Mayweather vs. Logan Paul Event: 'We Are Going After Two Completely Different Audiences'
Published 04/24/2021, 6:00 PM EDT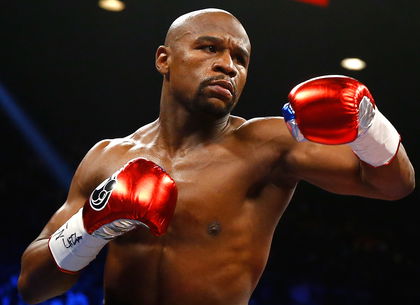 ---
---
Per the new set of rumors, Floyd Mayweather will return against Logan Paul on June 5 in a blockbuster exhibition matchup. After months of rigmaroles and confusion, the fight is once again back on track. However, it will collide with a massive Triller event on the same date.
ADVERTISEMENT
Article continues below this ad
Unified 135 lbs champion, Teofimo Lopez, will defend his titles against George Kambosos Jr, alongside Evander Holyfield's return against Kevin McBride in the undercard. So, there's no denying they can give a legitimate competition to Mayweather's comeback. However, it can also result in adverse effects on Triller.
Nevertheless, the Triller administrator doesn't intend to compete with Floyd Mayweather. Instead, he seems to have targeted an entirely unique set of fans. Speaking with Sirius XM, Ryan Kavanaugh detailed their upcoming event and explained how it is different from Floyd Mayweather fighting Logan Paul.
ADVERTISEMENT
Article continues below this ad
"If it was my last fight, it would be competition, because it's going after the younger audience. You know it's an exhibition fight with headgear. I mean, I love Logan [Paul] he is great. But he just had one fight, and he is fighting one of the greatest fighters ever. I don't think it's gonna be a fighter's fight for say. The last fight I had, the Jake Paul fight, it would be direct competition," said Kavanaugh.
So, both sides can relish their targets and can unveil a splendid night of boxing. Although Mayweather will remain the ultimate superstar of the sport, Triller's new stance has also alarmed the whole combat world with several unique features.
Floyd Mayweather can see something new in Triller
The undefeated Floyd Mayweather actually made crossover fights mainstream when he faced Conor McGregor in 2017. Several more UFC fighters and veteran boxers followed the trend. That said, Triller has come up with a unique blend of entertainment and combat.
The Jake Paul vs Ben Askren event saw umpteen musicians perform. Hence, it was nothing less than a musical concert merged into a boxing event. So, Kavanaugh seemed to have confidence in their content and fanbase.
Comparing the upcoming event with Floyd Mayweather's return, he added, "I think we are going after two completely different audiences. Like this one, hopefully, we will be able to bring some of the younger audience. Along [with] the ones who watched the last one, 'I kinda like this boxing thing. I am gonna go wherever they are."
"You know I am gonna check out that one and hopefully we will have enough with a couple of music acts with Snoop, that it'll keep the younger audience there."
ADVERTISEMENT
Article continues below this ad
While boxing continues to witness severe changes in its structure, the exhibition fights and crossovers have seen backlash. Several professional pugilists have evoked their anger over the issue, citing how pro boxers take a back seat in front of such events. However, given their success, the exhibition bouts will not fade away anytime soon, especially with such a vast number of ex-champions staging their return.
ADVERTISEMENT
Article continues below this ad