Twitter Destorys Ivan Redkach for Faking a Low Blow on the Jake Paul vs Ben Askren Fight Card
Published 04/18/2021, 12:38 AM EDT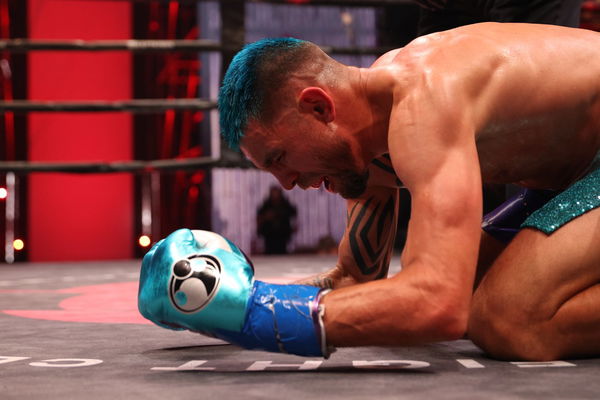 ---
---
The co-main event on the Triller Fight card between Jake Paul and Ben Askren saw Ivan Redkach take on Regis Prograis in a 10-round super lightweight bout. The fight started off well for both men as they both landed a few good shots early on. 
ADVERTISEMENT
Article continues below this ad
However, as the fight progressed, 'Rougarou' got a better read on 'The Killer'. Prograis landed early and often with some devastating left hooks. 
The fight ended when 'Rougarou' landed an inch-perfect shot to the body, 'The Killer' however played it off as a low blow and fell to the ground in pain. Later, the replays showed that the fight-ending punch was a legal blow. Hence, fans on Twitter were enraged by the same and absolutely destroyed Redkach for his antics. 
ADVERTISEMENT
Article continues below this ad
Ivan Redkach faces the wrath of fans on Twitter
A fan branded Redkach the most 'sorriest excuse of a fighter'.
Bro!! You are by far the most sorriest excuse of a fighter I've ever seen 🤣🤣🤣

— Dre B (@Mr_DreB) April 18, 2021
A fan sarcastically congratulated Redkach.
Preston Aaron was extremely critical of Redkach.
Prayers up for Ivan Redkach.

Nothing wrong with him, he's just a pussy.

— Preston Aaron (@PrAaHe) April 18, 2021
Edwin Ramos thought it was an Oscar-worthy performance. What did you think?
Jake had a fresh perspective of how the fight played out and the criticism for Redkach.
These announcers are gonna feel bad for calling Redkach a faker if it turns out he has a ruptured kidney.

— Jake (@imtheoutman) April 18, 2021
Rapper Snoop Dogg's commentary during the fight was extremely hilarious as pointed out by a fan.
Another fan suggested that Ivan faked the low blow, as he knew he did not stand a chance to win the fight tonight.
Redkach's inability to continue meant Prograis won by technical decision.
60-54
60-54
59-55

After an accidental foul Ivan Redkach was not able to continue making Regis Prograis the winner by Technical Decision. pic.twitter.com/Q9jGYo4ySd

— YouTube Boxing 🥊 (@Youtube_Boxing_) April 18, 2021
A fan berated 'The Killer' for faking a low blow and costing him money.
@ivan_redkach so because you decided to just not fight and act like you took a punch to the nads will you pay for my bet on you? Kinda dumb I lost money cause you gave up and act your way out. Replay literally shows a missed punch.

— Spiels (@SpielsTV) April 18, 2021
This fan does not think Redkach was hit below the belt, do you agree?
Ivan Redkach straight up did NOT get hit below the belt there, like, c'mon man

— Emerald Isle (@3meraldIsle) April 18, 2021
Another fan awarded an Oscar to Redkach for his performance.
And the Oscar goes to Ivan Redkach, with his great performance in "Ivan Takealot, nutting in the ring"

— BLM Popcorn (@AnonPopcorn) April 18, 2021
Drew was also extremely critical of 'The Killer' for taking the easy way out.
He took one of those and fell to the ground crying…. dudes a chump

— Drew💫 (@showtymesav26) April 18, 2021
Safe to say 'The Killer' has not won over a lot of fans with his performance tonight. One such fan, edited Ivan Redkach's Wikipedia page to reflect what he claimed was the true reason the Ukrainian pugilist suffered a defeat.
ADVERTISEMENT
Article continues below this ad
ADVERTISEMENT
Article continues below this ad
What did you make of the fight-ending strike? Was it a low blow or was it a clean shot? Let us know in the comments below!