Twitter Reacts With 'No' to Manny Pacquiao as the President of Philippines
Published 12/05/2020, 6:49 AM EST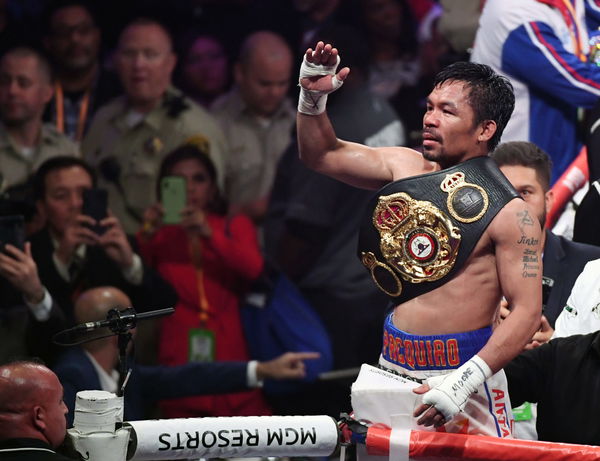 ---
---
Manny Pacquiao, the Senator of the Philippines and the only octuple world champion in boxing, is ready to embrace new heights at the age of 41.
ADVERTISEMENT
Article continues below this ad
While Pacquiao's much-anticipated boxing return has grabbed headlines for a brief period, it is his political role that restricts him in the spot with some new angles to it.
Several reports suggest that Pac-Man might run to become the President of his country. It is no surprise, as the Senator has already been noted for his noble work. He is also billed as a messiah for the common man who has done incredible things inside and outside the boxing ring.
ADVERTISEMENT
Article continues below this ad
However, not everyone had expected him to run for the Presidential campaign. The news has brought umpteen negative reactions for 'Pac-Man'.
Not only that, but social media users have also mocked Pacquiao for trying to don a new cap in his already glittering career.
A New chapter for Manny Pacquiao
Presiding over an entire nation calls for the person in charge to undertake several responsibilities; many consider that 'Pac-Man' isn't the right person to do so.
Following the news break, Twitter has exploded with negative reactions. Here's a look at some of them.
Manny Pacquiao having a big chance at being president is scary.

— yans (@YTSaludo) December 3, 2020
SET OF PEOPLE NOT TO VOTE IN 2022:

Senator Bong Go
Madam Imee Marcos
Mayor Sara Duterte
Senator Ping Lacson
Senator Manny Pacquiao

— Marky #RegisterToVote (@syntaxeroll) November 30, 2020
Never forget that Manny Pacquiao has done a TERRIBLE job as a lawmaker. Kahit attendance, bagsak. And now it feels like he's gonna run for President? Mag-boxing nalang sya, please. pic.twitter.com/InY5QgS9fP

— BI〽️B | #MCSoobinDay (@bluehourbimb) December 3, 2020
Yall at this point Manny Pacquiao has a high chance of winning and its just going to be another reign or terror with the side of homophobia.

I'm losing all hope to this country now istg i just want to leave this shit hole. pic.twitter.com/dfeDuZhF2q

— fish girl just skimming through tl (@bobtheb1232) December 3, 2020
I'm scared with the fact that Manny Pacquiao could win the presidency in 2022. I am a great fan of him when it comes to boxing, but in politics? count me out. ❤️

— prince of whales 🐋 (@_RoiVincentM) December 3, 2020
No to Manny Pacquiao for President please.

— Jamimay (@BautistaJamela) December 3, 2020
I hate to admit it. I hate to even think about it. Pero Manny Pacquiao winning the elections is actually possible…

— Armand (@ajvnoriega) December 3, 2020
MANNY. PACQUIAO. IS. NOT. CUT. OUT. TO. BE. THE. NEXT. PRESIDENT. OF. THE. PHILIPPINES.

ALL CAPS AND PERIODS FOR EMPHASIS CUZ I'VE GOT NO CHILL.

— sasha ✨ (@shane_delier) December 3, 2020
Manny Pacquiao is a trapo, too.

In 2007, he announced he would run for South Cotabato 1st District Representative under the Atienza wing of the Liberal Party; however, he eventually ran under KAMPI, a pro-GMA political party, in 2010 but lost to incumbent Rep. Darlene Antonio.

— Roentgen (@ronaldgem) December 3, 2020
Amid all this, Pacquiao's boxing return is still at a halt. After two back-to-back wins against Adrien Broner and Keith Thurman in 2019, 'Pac-Man hasn't fought this year.
Even though he raised eyebrows by desiring to lock horns against Terence Crawford, the fight is still far from reality. If the 41-year-old actually opts for the Presidential election, it will postpone his return to the sport.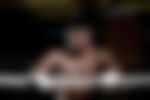 Pacquiao has nothing left to prove. But, a lot of fans still want him to accept a few more fights before calling it a day. A cross-promotion match against UFC star Conor McGregor is also a possibility. So, there are many reasons that can hold the octuple champion's position in the headlines.
ADVERTISEMENT
Article continues below this ad
What do you think? Will Pacquiao become run for the President of the Philippines or is it his time to return to the squared circle?
ADVERTISEMENT
Article continues below this ad