Tyron Woodley's Net Worth in 2021: Is He a Millionaire?
Published 08/14/2021, 6:21 AM EDT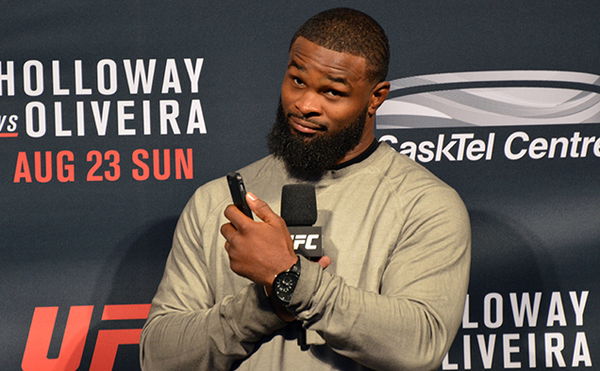 ---
---
Despite his losses towards the end of his UFC career, Tyron Woodley is still one of the best welterweights to ever step into the octagon. He started off with Strikeforce in 2009 and made his official UFC debut in 2013 after losing to Nate Marquardt in 2012.
ADVERTISEMENT
Article continues below this ad
Over the years, 'The Chosen One' has racked up 19 wins, 7 losses, and 1 draw. By defeating Robbie Lawler in 2016, he became the UFC welterweight champion. He defended his title four times until Kamaru Usman defeated and dethroned him in 2019. Following that loss, he lost three consecutive fights against Gilbert Burns, Colby Covington, and Vicente Luque.
ADVERTISEMENT
Article continues below this ad
Even though he lost his last four fights in the UFC, he is still a phenomenal athlete with exceptional knockout strength and wrestling skills. Apart from MMA, Tyron Woodley has also immersed himself in the entertainment industry. During his days as a champion, he released a rap album that featured Wiz Khalifa. Woodley is also a professional actor who has acted in big movies like 'Straight Outta Compton'.
As he prepares to dive deeper into the boxing world with his upcoming fight against YouTuber-turned-boxer Jake Paul, here's a closer look at Tyron Woodley's net worth in 2021, his UFC earnings, and his purse for the Jake Paul fight on August 30, 2021 –
Woodley: Net Worth 2021
According to Celebrity Net Worth, Tyron Woodley's estimated net worth is over $4 million. His primary source of income has been through mixed martial arts, endorsements, and his music and acting career.
'The Chosen One' has come a long way. For his Strikeforce professional MMA debut against Salvador Woods, the promotion paid him $3,000 ($1,500 for showing up and another $1,500 for winning). As he solidified his worth and skills in the octagon, he saw an incremental increase in pay, as he reportedly earned $60,000 for fighting Jardine Mein in 2012.
With his UFC debut in 2013, things completely turned around for him.
Tyron Woodley's earnings in the UFC
Tyron Woodley's net payout saw an incremental increase as the UFC acquired Strikeforce. His purse was doubled and largely depended on who he was fighting and the rest of the card. His earnings in the UFC peaked during his reign as the champion of the promotion's welterweight division from 2016 to early 2019.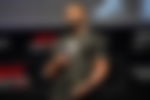 November 2016 – Woodley vs Thompson I (UFC 205) – $490,000
July 2017 – Woodley vs Maia (UFC 214) – $540,000
March 2017 – Woodley vs Thompson II (UFC 209)- $540,000
August 2018 – Woodley vs Till (UFC 228) – $590,000
March 2019 – Woodley vs Usman (UFC 235) – $540,000
May 2020 – Woodley vs Burns (UFC Fight Night) – $200,000
September 2020 – Woodley vs Covington (UFC Fight Night) – $350,000
March 2021 – Woodley vs Luque (UFC 260) – $540,000
Tyron Woodley vs Jake Paul – Fighter Salaries
Tyron Woodley will make his boxing debut against Jake Paul in a highly anticipated bout on August 29. Fans of the former UFC champion are now rooting for him to redeem himself against 'The Problem Child'. However, Paul seems to be a competitive fighter and also understands the basics of the sport, as he even knocked out Nate Robinson on his back foot. Despite his YouTuber status, the 24-year-old could be a tough fight for Tyron Woodley.
ADVERTISEMENT
Article continues below this ad
Even after fighting for the UFC, Tyron Woodley's biggest payday will come from his boxing match against Jake Paul. His agent, Malki Kawa, confirmed that this is one of the best deals he has pulled off for his client. Furthermore, he highlighted that 'The Chosen One' will get a global pay-per-view cut.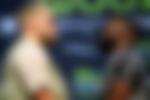 "Yeah, he's getting paid really well. It's one of the best deals I've ever done. It's a tremendous deal. He's getting a large base number, he's getting a cut of the pay-per-view globally. He should walk away with a multi-million dollar payday. His base guarantee is in the millions already, but add on all the other extra stuff, it's a really nice payday," said Malki Kawa.
ADVERTISEMENT
Article continues below this ad
Jake Paul has become a big name in boxing because of his ability to bring fresh eyes to the sport. This fight is on track to generate a multi-million dollar payout for Tyron 'The Chosen One' Woodley.