Tyson Fury Believes His Daughter Could Be "Next Future World Heavyweight Champion"
Published 09/13/2021, 9:06 PM EDT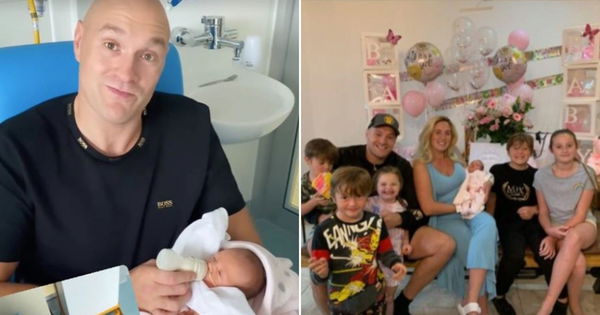 ---
---
In a recent interview, 'The Gypsy King' Tyson Fury talked about his upcoming trilogy fight against Deontay Wilder on October 9. Apart from that, he also spoke about his newborn daughter Athena.
ADVERTISEMENT
Article continues below this ad
Tyson Fury said that his daughter was born a fighter. He then compared Athena's health complications with his own as an infant. Fury highlighted that despite all struggles in his own childhood, he grew up to be six feet nine inches tall and a world champion.
ADVERTISEMENT
Article continues below this ad
The Englishman suggested that his daughter was born with a fighter mentality. He even pointed out that she could even become the future heavyweight world champion.
"She's won her first war straight away, so she's a fighter, just like me. I was early, and I was very unwell as a child and so was she and I've grown up to be six foot nine, so maybe she'll be six foot nine, who knows. Next Future World Heavyweight Champion," said Tyson Fury.
Danielle Perkins – The Tyson Fury of women's heavyweight division
'The Gypsy King' has talked about his struggles with mental health and depression. Many look up to him for fighting through all that to become one of the very best in the men's heavyweight division. Tyson Fury fought his way through and climbed the ranks to finally become a world champion.
39-year-old Danielle Perkins shares a similar story.
One afternoon in 2008, Perkins got hit by a car while crossing a road in downtown Brooklyn. This accident landed her in the intensive care unit. She suffered injuries ranging from a cracked skull to a strained neck, and a dislocated shoulder. Moreover, the accident also damaged her nerves from the waist down, leaving her paralyzed for nearly three months.
"At my darkest point, if I couldn't have athletics again, I didn't want to be alive. Certain things in life give you an opportunity to remain stagnant or turn a corner by making difficult choices.
ADVERTISEMENT
Article continues below this ad
"I refused to quit. I wanted to have the basics back – to walk again, to be functional, and playing basketball again was my ultimate goal," said Danielle Perkins.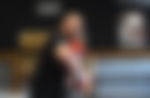 From being paralyzed to spending time in a wheelchair for months, she fought and worked towards her recovery. Nearly thirteen years later, Danielle Perkins is now a WBC Silver heavyweight champion. She now has plans to grow further in the sport and test herself.
ADVERTISEMENT
Article continues below this ad
"My goal is for people to say: 'You're 200lbs? Train hard enough and maybe you can fight Danielle'," Perkins added.
A fight with Hanna Gabriels, the current WBC, and WBA heavyweight champion, would give her a shot at winning the throne.