Should Mark Breland be Criticized For Saving Deontay Wilder From More Punishment?
Published 02/26/2020, 2:08 AM EST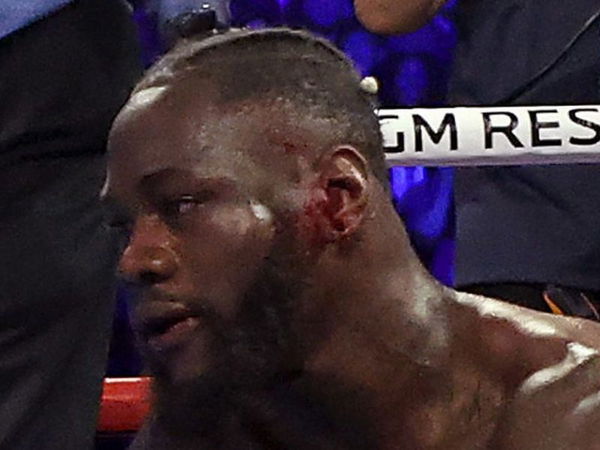 ---
---
Anyone who thinks Mark Breland Threw in the towel early should watch the various closeup videos. Tyson fury cracked open Deontay Wilder's ear with a clean right hook causing Deontay Wilder to hit the canvass.
ADVERTISEMENT
Article continues below this ad
Wilder looked shot and drained throughout the fight with his condition worsening towards round 6 and 7. Wilder fought nearly half the fight off-balance due to the ear injury he sustained making him an extremely easy target.
ADVERTISEMENT
Article continues below this ad
Wilder was not able to handle the "barrage " of punches coming in from Fury, taking in more damage with each passing round.
Mark Breland or Deontay Wilder, Who is right here?
Mark Breland has received criticism from all corners. However, we must understand that certain decisions are unpopular but necessary. Mark Breland was looking out for Deontay Wilder keeping his family in mind.
ADVERTISEMENT
Article continues below this ad
Given the ruthless nature of this sport, precaution seemed better than cure at that moment irrespective of what anyone else says. Boxers are known for having the worst "record" when it comes to head and ear injuries.
according to The American Association of Neurological Surgeons, nearly 90% of boxers sustain brain, ear and eye injuries. With diseases such as CTE rampant throughout the sport. We can only be thankful that Breland threw in the towel.
The fact of the matter is, its extremely unlikely the outcome of the fight would have changed. Wilder is perhaps setting a bad example with his never say '' die attitude''.  Although the courage Wilder showed was nothing but spectacular. But firing the trainer who threw in the title to stop the fight is not appropriate. It's the trainers' responsibility to look out for their fighters when the fighters are unable to make rational decisions inside the boxing ring.
The sport needs to become safer. Wilder did not have a burst eardrum as reported earlier. Rather he suffered from a laceration which required 7 stitches to close. Deontay Wilder must be thankful that his team threw in the towel. The fight seemed over before his team threw in the towel. Agreed Wilder had been outclassed before for multiple rounds and finish the fight with one punch. But Wilder was getting bullied by Tyson Fury in the ring and he did not look the same ever since Fury knocked him down in round 2.
ADVERTISEMENT
Article continues below this ad
With his condition getting worse round after round, his team made the right decision keeping the fighter's health in mind
Watch: Tyson Fury Shockingly Licks Deontay Wilder's Blood During the Fight