Tyson Fury: 'The Gypsy King Has Never Experienced Any Mental Health Issue'
Published 07/17/2021, 4:30 PM EDT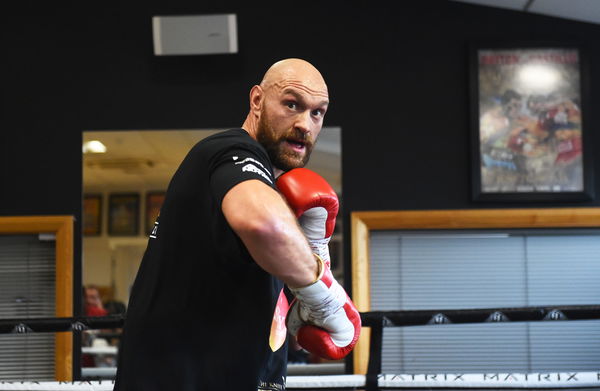 ---
---
Tyson Fury has often talked about his mental issues, depression, and anxiety, which he has suffered for a brief period. While he could overcome all of it, Fury's rise to the top has been an inspiring story to the entire world. However, the unbeaten heavyweight champion also has another side to that.
ADVERTISEMENT
Article continues below this ad
Fury is one of the most confident boxers who doesn't hesitate to demean his opponents. According to the British elite, he has variant personalities, and 'The Gypsy King', his boxing role has never contracted any form of setback. Tyson Fury connected with Pitch Boxing to talk about several things. His multiple personality was one of the subjects discussed.
ADVERTISEMENT
Article continues below this ad
Speaking on it, 'The Gypsy King' said, "I have two characters. So Tyson Fury as a man, is a very flawed character. We are only human after all, we all make mistakes. We are all tempted, we all do thing on a daily basis that maybe we shouldn't do. But 'The Gypsy King' is untouchable. And when I am in the boxing ring or when I am that person, I have never had any trouble."
"The Gypsy King has never experienced mental health issue. He has never experienced downtime or lowness, or depression or anxiety never had suicidal thoughts. Never had anything."
Meanwhile, Fury has talked about coming across an 'invisible' opponent that seems to haunt him throughout. Although it couldn't put a dent in Tyson Fury's unbeaten boxing record, the Brit giant has faced a few problems for it. That said Fury has finally chosen to speak about it, sending several fans into a frenzy.

Tyson Fury and his Invisible rival
Fury took to social media and revealed about seeing the opponent, which is out of sight to the world. While the champion's list of opponents reflects several tough fighters, he claims no one to come close to that invisible one. He also offered assistance to those struggling with depression via Twitter while talking about his own scenario.
ADVERTISEMENT
Article continues below this ad
Meanwhile, it's almost time for 'The Gypsy King' to reappear in action. After the WBC title win over Deontay Wilder in February 2020, Fury will come back to close the rivalry with an epic trilogy bout on October 9. Putting the world title and his unbeaten tag on the line, it will be a career-defining matchup for Tyson Fury and hopefully, the invisible opponent doesn't arrive troubling him.
Do you think Tyson Fury has one of the most inspiring stories in the heavyweight division?
ADVERTISEMENT
Article continues below this ad
Watch This Story: Top 5 Worst Eye Injuries In The History of Boxing